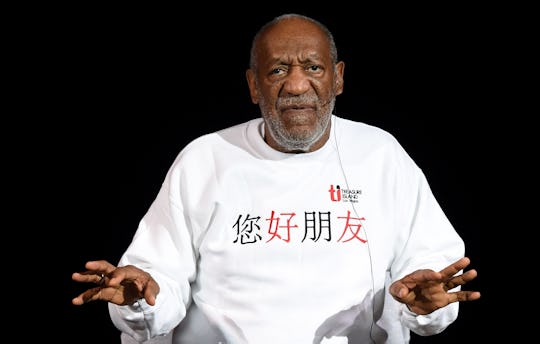 Twitter Responses To Bill Cosby's Sexual Assault Charge Show That People Want Justice For His Alleged Victims
With the number of sexual assault accusations against him currently numbering in the dozens, criminal charges have finally materialized: Bill Cosby was formerly charged with aggravated indecent assault on Wednesday by prosecutors in Montgomery County, Pennsylvania, according to the Los Angeles Times. Incoming District Attorney Kevin Steele announced that the county has issued an arrest warrant for the actor on the first-degree felony charge, and that Cosby would be arraigned at about 4 p.m. Wednesday afternoon. Twitter reactions to Cosby's charges were a mixture of emotions.
The alleged incident occurred in 2004 and involved a former Temple University employee named Andrea Constand, who says she met Cosby through her job and considered him a "a mentor and a friend," according to the BBC. She alleges that Cosby drugged her and sexually assaulted her at his home, with prosecutors claiming that Constand was "frozen, paralyzed, unable to move," according to the Associated Press. Cosby's representatives, Christopher Tayback and Monique Pressley did not immediately respond to Romper's request for comment, but Cosby previously said that the encounter was consensual sex.
Constand sued Cosby in 2005, and the case was settled with no criminal charges filed. But Steele said prosecutors re-opened the case after new evidence came to light, and they were able to proceed with an arrest warrant "just days before the 12-year statute of limitations for bringing charges was set to run out," according to the Associated Press.
Naturally, reactions on social media have been heated, as the allegations against Cosby have been incredibly controversial. The 78-year-old actor was once a beloved comedian with a good-guy image, known as "America's Dad," according to the Associated Press. But Cosby has faced a barrage of legal issues in recent years, including multiple sexual assault lawsuits throughout the country, as well as defamation suits — although the Associated Press noted that the statute of limitations has expired in nearly every case.
Cosby has maintained his innocence throughout the allegations. In November, his then-lawyer, John P. Schmitt, issued the following statement, according to Entertainment Online:
Over the last several weeks, decade-old, discredited allegations against Mr. Cosby have resurfaced. The fact that they are being repeated does not make them true. Mr. Cosby does not intend to dignify these allegations with any comment. He would like to thank all his fans for the outpouring of support and assure them that, at age 77, he is doing his best work. There will be no further statement from Mr. Cosby or any of his representatives.
To many, Wednesday's announcement of criminal charges against Cosby shows the potential for what could be long-awaited justice — for Constand, but also, in a way, for all of the women who alleged Cosby assaulted them but haven't been able to file charges against him:
Others voiced their frustration that it took so long for charges to be filed:
And yet, some are still siding with Cosby:
Watch Steele's statement on Cosby's charges below:
Image: Ethan Miller/Getty Images Entertainment