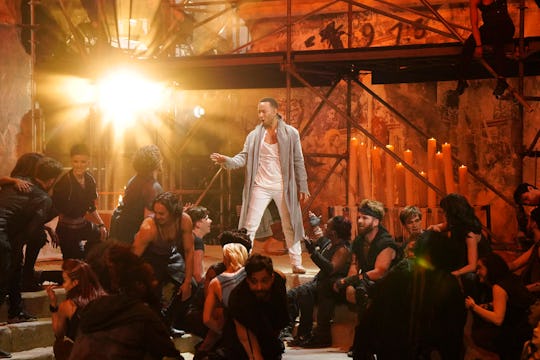 Paul Lee/NBC
Twitter Couldn't Stop Comparing The 'Jesus Christ Superstar Live!' Set To Another Beloved Broadway Show
The much-anticipated live musical telecast of Jesus Christ Superstar aired Easter Sunday on NBC and the show's aesthetic felt awfully familiar to musical theater nerds. In fact, much of Twitter thought Jesus Christ Superstar Live looked like the Rent set and it's true that there were a ton of similarities. Part of the reason for this is that both Jesus Christ Superstar and Rent are rock operas. That is to say, both of them have very little dialogue; in the case of Jesus Christ Superstar Live, in fact, there was no dialogue at all. The live telecast relied entirely on a concept album first released in 1970, with music by Andrew Lloyd Webber and lyrics by Tim Rice.
It first functioned as a concept album imagining the the last days of Jesus Christ, per the accounts of him in the Gospels. But when the show debuted on Broadway a year later, it was something of a commercial flop. A film adaptation was made in 1973, which garnered several Golden Globe nominations. Since then, the show has been relegated to the realm of cult classic. For reference, Godspell, a folk musical also based on the four Gospels, opened in 1971 off-Broadway, with a successful revival run in 2011.
Since both Jesus Christ Superstar and Rent are rock operas, it makes sense that the staging feels similar. For example, they both used long tables to showcase the ensemble of performers in group numbers. This is an iconic way of staging the Act I finale of Rent, "La Vie Boheme," and in the case of Jesus Christ Superstar Live, it functioned as an instantly recognizable staging of The Last Supper.
Furthermore, the rock musical vibes, concert-style staging, and Marcy Armory shooting location left Jesus Christ Superstar Live ripe for the type of sparse, industrial production NBC arranged. According to Variety:
For the sets, production designer Jason Ardizzone-West created "ancient, damaged fragments of a chapel" held up by scaffolding. All scenes take place in a common gathering place at the center of the stage, and props are few — just raw wood table pieces that can be assembled and disassembled as the chorus or players may need them. "The challenge of designing this space is you have to come up with something that works for live concerts and opera," says Ardizzone-West, "but also has elements that work for an intimate narrative scene."
Needless to say, musical theater Twitter noticed the commonalities between the two shows immediately.
The 44-person cast of Jesus Christ Superstar Live! and onstage orchestra of 32 musicians all adopted an alt-rock/glam rock/goth rock aesthetic to unify themselves into a cohesive production, which also mimicked the ensemble numbers in Rent. Paul Tazewell, who designed the costumes for 2016's The Wiz! Live and won an Emmy for it, designed the costumes for this production as well.
He noted in an interview with Variety that the in-house audience would also play a part in the festivities, since performers were set to interact with them from time to time. Because most members of the cast are singers, versus traditional musical theater performers, it makes sense that they would interact with the audience. Some of Twitter found this distracting, and critiqued the production for its informal style. But if you think about who was cast in the live telecast — John Legend, Sara Bareilles, and Alice Cooper among them — it's understandable why the production adopted a concert-style setting, similar to other rock musicals on Broadway. Rent is infamous for casting A-list singers during its long Broadway run, and, given Jesus Christ Superstar Live's comparable vibe, it's no surprise that the two shows felt so alike to fans.
Check out Romper's new video series, Romper's Doula Diaries:
Watch full episodes of Romper's Doula Diaries on Facebook Watch.