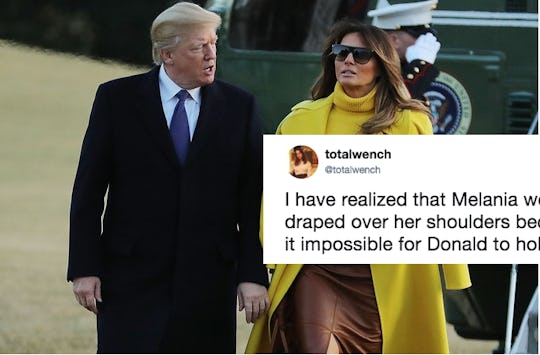 Chip Somodevilla/Getty Images News/Getty Images
Twitter Thinks Melania Swatted Trump's Hand Again & The Video Is Really Awkward
Ever since President Donald Trump emerged victorious from the 2016 election, critics have (predictably) been scrutinizing every move he makes — especially the interactions with his wife, Melania. The couple — who have been married for 12 years at this point — can often be seen waving, smiling, and even holding hands during public appearances. However, it's the handful of instances the First Lady of the United States seems to reject her husband's public displays of affection that catches the public eye. Most recently, Twitter thinks Melania avoided holding Trump's hand again and has some theories why.
Trump and the first lady were departing the White House for Ohio on Monday when the apparent diss happened, as reported by People. As a video shared on Twitter by NBC News shows, it appears as if Trump is reaching for his wife's hand while they were walking toward the plane together. However, Melania's hand was conveniently tucked inside her coat (which she traditionally drapes over her shoulders) and Trump failed to actually make contact. This fumbled attempt at casual affection caused the pair to stop momentarily before Trump put his hand on Melania's back and led her the rest of the way to the plane. At the very least, it's awkward, right?
Romper's request for comment from the White House regarding the video was not immediately returned.
Naturally, it didn't take Twitter long to chime in with speculation about this seemingly public diss by the FLOTUS.
Some People Noticed Melania's Clever Hand-Avoiding Strategies.
That funky way Melania "wears" all of her jackets? The way she strategically places her purse? As far as Twitter is concerned, these are calculated decisions made for a sole purpose.
Some People Blamed It All On Stormy Daniels.
Some people on Twitter thought this possible brush off perhaps stemmed from reports about adult film star Stormy Daniels. As The Wall Street Journal reported in January, Daniels was allegedly paid $130,000 to keep quiet about an alleged series of sexual encounters with Trump back in 2006 — just a few month after the Trumps' son, Barron, was born. Romper's request for comment on the reports has not yet been returned.
Others Noticed How Their Body Language Spoke Volumes.
And Some Suspected Trump Moved Melania For The Sake Of Photos
Why did the POTUS stop walking and then go around to his wife's other side to walk? Was he trying to brush off what appeared to be a hand slap? Or, was he simply trying to get a a better angle for cameras? Honestly, we may never know, but clearly Twitter has ideas.
If you remember, this isn't exactly the first time the FLOTUS was caught dodging her husband's attempt at public hand-holding. Back in May while on a trip to Tel Aviv, Israel, Melania smoothly avoided President Trump reaching for her hand as they exited Air Force One, as CNN reported.
And during that same trip, Melania seemed to blatantly slap away her husband's advances. Since then, it seems people have been diligently watching for similar acts of tension between the couple.
Plus, during her husband's inauguration on Jan. 20, 2017, a clip of Melania smiling at Trump and then her face dropping as soon as he turned around attracted a lot of attention, as reported by Slate.
It's impossible to get a full picture of Melania and Donald Trump's relationship based on short clips or GIFs of a handful of their interactions. And naturally, critics of the president are going to interpret anything he does in a negative light. But Twitter sure think there's a pattern.
Check out Romper's new video series, Romper's Doula Diaries:
Watch full episodes of Romper's Doula Diaries on Facebook Watch.