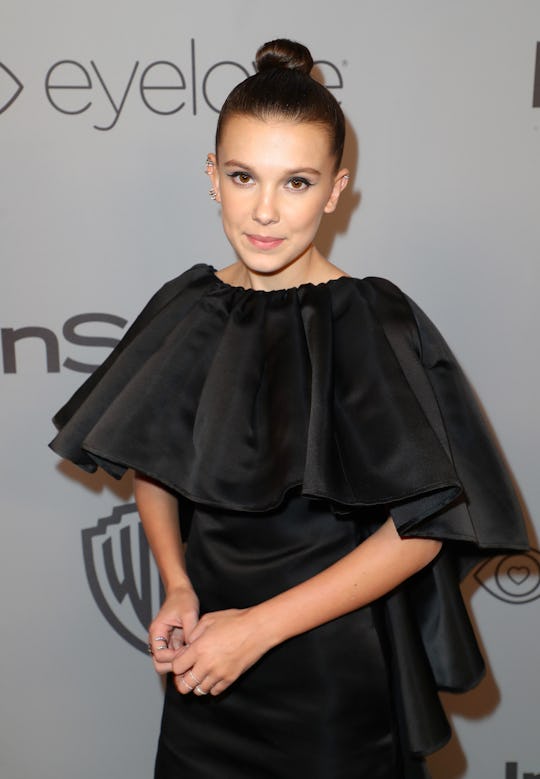 Joe Scarnici/Getty Images Entertainment/Getty Images
Twitter Thinks Millie Bobby Brown Looks Like Young Natalie Portman, & It's Actually Kinda Freaky
We can probably all agree at this point that Millie Bobby Brown is a) amazing and b) probably the only person who will escape having a massively embarrassing eighth grade yearbook photo, given that she's somehow entirely skipped over the usual awkwardness that is being a 13-year-old girl. But while the Stranger Things star may be cooler than all of us combined, some eagle-eyed social media users have recently discovered that she's not actually the first talented actress to have hit the screen at 13 years old, and who can rock a shaved head like it's absolutely no big deal. It turns out that Twitter thinks Millie Bobby Brown looks exactly like a young Natalie Portman, and honestly, the similarities are pretty striking.
Ever a breeding ground for some seriously baffling (and entertaining) conspiracy theories, Twitter has had a giant freak out over the comparison between the two actresses, and has basically narrowed it down to a few explanations. In one, Brown is actually a clone of Portman, in what is clearly an elaborate scheme backed by the Illuminati to confuse us all and to presumably ensure Portman's ongoing lineage in future installments of the Star Wars movie franchise (or perhaps some kind of V For Vendetta prequel?). In another, uh, well, I guess they just happen to look a lot alike. Either way though, the comparison definitely has a lot of people talking.
As you can see, unearthed throwback photos of Portman show that Brown is totally her next-generation doppelgänger — both with hair and without. In fact, the similarities have even led some users to wonder if they could somehow be related:
I mean, check out this photo of their faces morphed together:
Or maybe this split-screen shot?
These photos may have been taken 23 years apart, but they could pretty much be twins:
Which, quite frankly, has led a lot of people to get pretty excited at the prospect of a Portman and Brown mom/daughter project:
Though, others are convinced there's something creepy going on:
Sure, it's far-fetched. But, I mean...
Not only have they both shaved their heads for acting roles though, they also had similar feelings about the experience. In 2014, Portman spoke to BBC News about shaving her head for V For Vendetta, and spoke about how freeing it felt:
It was actually kind of wonderful to throw vanity away for a little bit. We're always expected to be preening ourselves, so it was a pretty nice opportunity not to have to think about that stuff for a while.
In January, Brown tweeted about shaving her head for her role as Eleven in Stranger Things, and revealed that it was actually a hugely transformative experience:
To be fair though, not everyone is on board with the Brown/Portman comparison. To lots of Twitter users, the resemblance is little more than the fact that they were both pretty brunette teenagers:
While others just feel like there's no need to compare Brown to anyone else:
All the commotion over Brown and Portman though has led some to point out that, hey, there are plenty of other celebrity twins out there. Some of the proposed doppelgänger duos? It actress Sophia Lillis and Amy Adams, for one:
Or Joe Keery and Ben Schwartz:
While others have suggested that Portman isn't actually Brown's only celeb lookalike:
So far, neither Brown nor Portman have weighed in on the Twitter controversy, but it would be interesting to see if they happen to find it as weird as the rest of us seem to. And although it is far more interesting to speculate that the fact that they resemble one another suggests some kind of deeper cosmic meaning surrounding the two talented actresses, I have to admit, to me, they mostly seem like two girls with similar features at the end of the day.
Either way, it's clear that the internet can't quite get enough of Millie Bobby Brown these days, and it seems totally reasonable to think she could have as successful an acting career as her famous lookalike.
Check out Romper's new video series, Romper's Doula Diaries:
Watch full episodes of Romper's Doula Diaries on Facebook Watch.