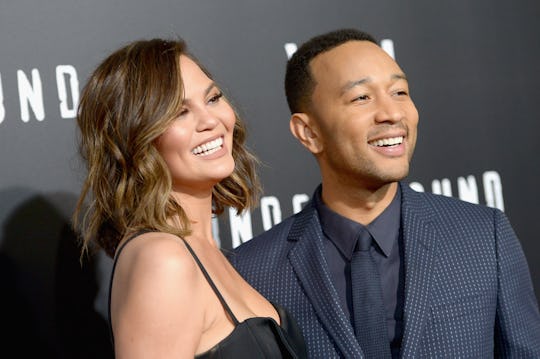 Charley Gallay/Getty Images Entertainment/Getty Images
Chrissy Teigen Magnificently Shuts Down IVF Trolls
What does Chrissy Teigen have to do to get the criticism to stop? The swimsuit model, television host, cookbook writer, wife to singer John Legend, and mother already does enough. Yet, it seems like her haters always find something to criticize or question. On Tuesday, Twitter trolls harassed Chrissy Teigen over IVF, yet again, but this time, Teigen was just not having it.
There is a lot we can learn from Teigen, like, for example, how to look amazing every damn day or cook the best noodle dish you'll ever eat. But Teigen, more importantly, can teach women how to defend their actions without being apologetic, especially when it comes to in vitro fertilization and using infertility treatments — something for which no woman should have to apologize.
Teigen tweeted on Tuesday about her "outstanding embryo storage balance" being due. (Teigen's "outstanding balance" was referring to the price of storing a patient's embryos for fertility procedures, which could cost anywhere from $3,000 to $5,000 per cycle, according to Forbes, on top of the already expensive IVF process.) "Damn how's my embryo gonna be in debt before it's even born," Teigen joked in the tweet. "PAY YA RENT, embryo!!!"
According to BuzzFeed, Twitter users immediately (and wrongly) began to assume that these tweets meant that she was hinting at a possible pregnancy, peppering the mom of one with impolite inquiries about the state of her uterus. One even went as far as to ask "Why would you use an embryo? Could you not conceive naturally?"
Teigen, of course, had the perfect response to the invasive line of questioning. "Oh wow I didn't know you could do that," Teigen replied, hitting back at those who wondered why she hadn't "conceived naturally." "Would have saved me a ton of money."
Teigen's sarcastic reply is perfect for such a ridiculous question, especially since those who follow Teigen know that she has been honest about her struggles with infertility for so long.
Last April, Teigen told SELF Magazine that she was originally confused about infertility, often wondering why she and Legend could not get pregnant when they were both young and healthy. But after trying so many times, Teigen and Legend decided to start fertility treatments, which was not an easy process, physically or emotionally. "Emotionally, it could be very hard," Teigen told SELF Magazine. "When you have these high-highs and low-lows, and you're, like, cuckoo pants."
The treatments worked and Teigen and Legend welcomed Luna into the world last year. But still, even after the birth of her daughter and being open about her treatments, Teigen continues to get inappropriate questions about not being able to conceive naturally (a different troll literally asked her the exact same question six months ago).
Teigen's perfectly sarcastic reply is something to be admired. When it comes to IVF, embryos, and infertility, women don't have to explain themselves or the process they're going through. Chrissy Teigen leads by example. Be like Chrissy Teigen.