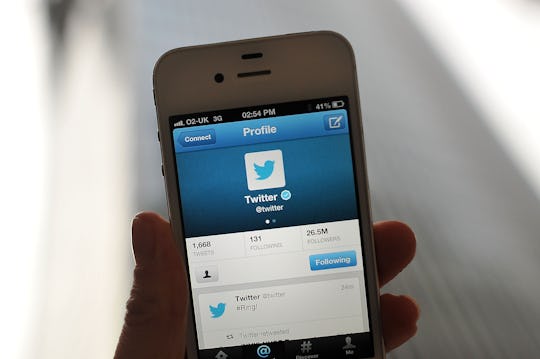 Bethany Clarke/Getty Images News/Getty Images
Twitter Won't Count Photos Or Links In Its Character Limit, So Your Posts Won't Get Cut Sh
Twitter's 140-character tradition is about to undergo a major change. According to report from Bloomberg on Monday, in the coming days, Twitter won't count photos or links in its character limit. The change will likely happen in the next couple weeks, giving you the freedom to craft a perfect tweet with a bit more ease instead of brain teaser that usually results in a creative mix of abbreviations.
Even after Twitter shortens them, links currently still hog 23 precious characters and photos claim a whopping 24 (the horror!). While the unconfirmed change seems subtle and perhaps only significant to a few demographics, the shift may make communication on Twitter more approachable and flexible for those who want to provide an adequate message of text with visual context.
According to the Bloomberg report, Twitter declined to comment on the rumored change. But last January Chief Executive Officer Jack Dorsey said that the company was looking for new ways to display longer text on Twitter and would take a look at how people use the service with messages that exceed 140 characters. For example, people will send many tweets in a sequence to tell a story or take screenshots of longer texts and attach as a photo.
"We're not going to be shy about building more utility and power into Twitter for people," Dorsey said on his Twitter in January. "As long as it's consistent with what people want to do, we're going to explore it."
According to Dorsey, the 140-character limit was originally adopted to fit a tweet into a single text message, which was a common way of sharing posts when Twitter first debuted in 2006. The first iPhone went on sale one year after and since has made the way we use Twitter and social media much different and interactive than when the service was first introduced. Tweets no longer only consist of a quick message — Twitter feeds are full of screenshots, photos, videos, and links.
Earlier this year the company explored a 10,000 character limit, but Dorsey says they will stay true to the short and sweet nature that it's become known for and sets itself apart from other social media.
"It's become a beautiful constraint, and I love it!" Dorsery said on Twitter of the character limit. "It inspires creativity and brevity. And a sense of speed. We will never lose that feeling."
Twitter has been observing the way people use the service and how they compose their tweets and it seems like they've reportedly started to rethink the character limit rule that's carried on for over a decade. An extra 20-some characters isn't a huge change of course, but more of a compromise for the company to keep rooted in quick conversational nature it started with while giving users just a little extra something to work with — you know, to craft that perfect tweet.