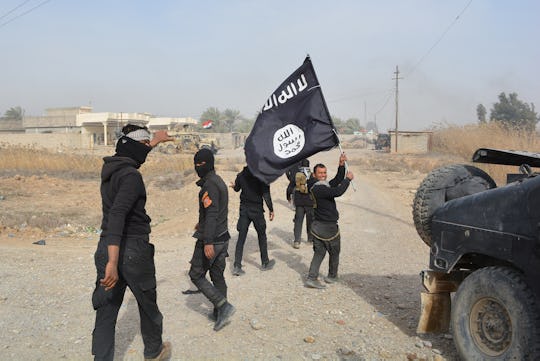 Younis al-Bayati/AFP/Getty Images
Two Refugees Were Arrested On Terrorism Charges & The Public Is Focusing On The Wrong Thing Once Again
Federal officials in Texas and California said Friday that they had arrested two refugees on terrorism charges. According to authorities, the men had previously been in communication with one another and had traded text messages about training together in Syria. The immediate public reaction was unsurprising — across social media, the backlash against the refugee population was swift, with many blasting the Obama administration for what they perceived as both inaction and a denial of the facts.
"Who'd [sic] thought?" Texas Gov. Greg Abbott tweeted, seemingly mocking the president's immigration stances. "A refugee lied to immigration authorities about contact with ISIS & providing it support." Abbott's response wasn't wholly unexpected: In late November, the Texas native, along with a host of other state governors pledged to block the sudden influx of refugees from resettling in their home states, a move that was widely criticized as being unconstitutional.
Texas Lieutenant Gov. Dan Patrick offered up his opinion as well, telling Reuters reporters in a statement that the incident only bolstered the governor's commitment to keeping out refugees. "This is exactly what we have repeatedly told the Obama administration could happen and why we do not want refugees coming to Texas," Patrick said. "There are serious questions about who these people really are, as evidenced by today's events."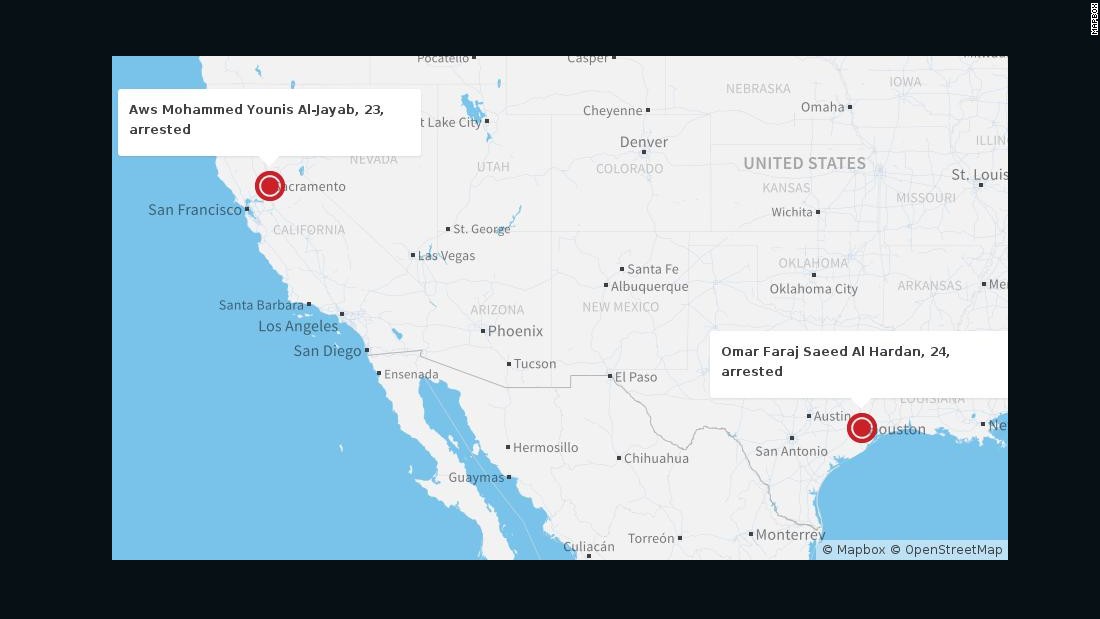 More than a few public figures have since joined Abbott and Patrick in calling out the administration's continued support of Syrian refugees, who have been flooding parts of Europe, Canada, and the United States over the past few months to escape the ongoing civil war between a host of militant terrorist groups and the Syrian government. With the United Nations estimating a total of 4 million Syrian refugees overall and an additional 7 million displaced internally, it's unlikely the problem will go away anytime soon — which makes Friday's knee-jerk response all the more concerning.
Certainly, if the public should focus on anything, it's the broader issue at hand — homegrown terrorism and domestic radicalization. According to federal authorities, the two men arrested this week — 24-year-old Omar Faraj Saeed Al Hardan, an Iraqi-born Palestinian living in Houston, and 23-year-old Aws Mohammed Younis Al-Jayab, also an Iraqi-born Palestinian who had been living in Sacramento, California — had been in the United States since 2009 and 2012, respectively. More importantly, officials noted, the men had allegedly been planning to make their way to Syria, where they would likely train with other ISIS militants and attempt to plot out some form of terrorist attack.
So far, much of the right has focused its collective attention on the wave of Syrian refugees pouring across borders as they flee militant extremism in their own country; GOP presidential front-runner Donald Trump went so far as to call the sudden exodus a "trojan horse" that would cause "another problem" for the American public. "We have no idea who these people are when it comes to paperwork," Trump stated in an interview with CNBC. "... We cannot let them into this country, period."
Trump's critics were quick to point out that Syrian refugees were the least likely group to commit acts of terrorism, as the refugee process alone was so intense and so drawn out that attempting to get into the country for nefarious reasons under the country's refugee program would be highly inefficient.
"Why would an ISIS terrorist sit and wait to be a refugee for three years to get into the US, when they could get a radicalized European citizen and fly here on a visa waiver and then live here under the radar?" Anne Speckhard, director of International Center for the Study of Violent Extremism, told Wired in November last year.
Instead of directing their ire at refugees — the way that so many did on Friday— concerned Americans should perhaps be considering ways to reform the prison system, which has become a breeding ground for militant thinking over the past few decades, and may contribute largely to the overall spread of homegrown jihadism — directly propping up ISIS' foreign recruitment. It may not be a quick solution, but it's better than following red herrings.
Images: Younis al-Bayati/AFP/Getty Images