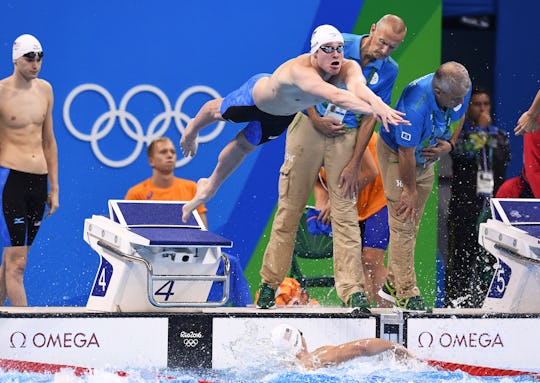 David Ramos/Getty Images Sport/Getty Images
Two U.S. Swimmers Pulled Off Flight In Rio, After Questions About Lochte Robbery Arise
When news broke early Sunday that U.S. Olympic Swimmer Ryan Lochte had been robbed, people didn't know what to think. The IOC denied that anything had happened, while Lochte's mom, Ilena, swore he and a few teammates had been robbed after a late night party in Rio. Lochte later confirmed the robbery but now officials are begging to know more details. Things appear to be getting pretty serious, especially now that two U.S. swimmers were pulled off flight in Rio due to unanswered questions about the Lochte robbery.
CNN reported Wednesday night that the two swimmers, Jack Conger and Gunnar Bentz, were removed from their flight headed out of Rio de Janeiro and back into the United States by Brazilian authorities — U.S. Olympic Committee spokesman, Patrick Sandusky, confirmed this to CNN. The two swimmers were allegedly among the group of U.S. swimmers that was out with Lochte when he was reportedly robbed and might be able to answer questions that the Brazilian police may have — questions that people other than the witnesses of the alleged crime might not be able to answer themselves.
According to CNN, Judge Keyla Blanc De Cnop said that "police still need more time to assess whether the U.S. swimmers provided false information and if they filled a false crime report." This is due in part to the alleged inconsistencies in the statements given to the police by the four swimmers, according to Blanc De Cnop.
This is major news to the case, following on the heels of a judge's order put out by Blanc De Cnop earlier in the day. According to Reuters, Blanc De Cnop ordered police to seize the passports of Lochte and fellow swimmer James Feigen to be questioned in the robbery — but by the time police found Lochte, they discovered he had been back in the United States for days (since Monday, according to reports). But it looks like Brazilian authorities reached Conger and Bentz just in time.
While no one is denying that Lochte and fellow swimmers weren't robbed, Blanc De Cnop believes there is inconsistencies with Lochte's and fellow teammates stories — and believes that these stories don't match up with video footage of the swimmers arriving at the Athletes Village on the night that they had been robbed, according to Reuters.
On Sunday morning, word got out that Lochte has been robbed in Rio, but was okay. While some denied it happened and others swore it did, Lochte made an official announcement to NBC News that he was, in fact robbed on Saturday night. Lochte claims that he had a gun pointed to his head and that the robbers allegedly took Lochte's wallet but left his cellphone. USOC spokesman Patrick Sandusky told NBC News in a statement:
According to four members of the U.S. Olympic Swimming Team (Gunnar Bentz, Jack Conger, Jimmy Feigen, and Ryan Lochte), they left France House early Sunday morning in a taxi headed for Olympic Village. Their taxi was stopped by individuals posing as armed police officers who demanded the athletes' money and other personal belongings. All four athletes are safe and cooperating with authorities.
But it sounds like the authorities need to do a little more questioning due to their investigation. According to CNN, Brazilian police are currently looking for the taxi driver who drove the swimmers around and have asked him to step forward. Whatever the case may be, there is hope that the questioning of Congar and Bentz will provide Blanc De Cnop and Brazilian authorities with necessary information to catch the criminals or close the case.