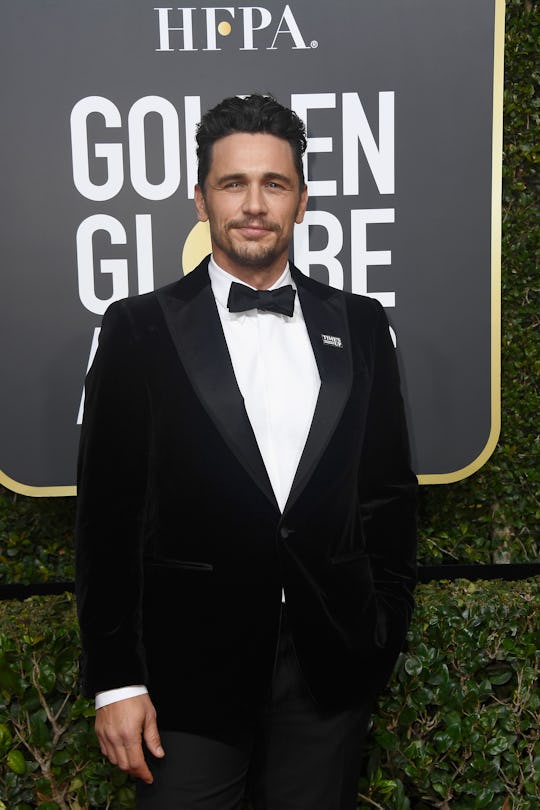 Frazer Harrison/Getty Images Entertainment/Getty Images
Two Women Have Accused James Franco Of Sexual Misconduct, & Here's What We Know So Far
Just days after actor James Franco received a Golden Globe — while sporting a #TimesUp pin, no less — multiple women have come forward and accused him of sexual misconduct. In fact, the New York Daily News reported that actress Violet Paley took to Twitter the very next day with alarming allegations. Paley claimed The Disaster Artist star sexually assaulted her and attempted to get her 17-year-old friend to come to his hotel room. So far, James Franco has been accused of sexual misconduct by two women, and the details of the allegations are seriously disturbing. Franco's representatives did not immediately respond to Romper's request for comment.
Update: On Tuesday evening, Stephen Colbert asked Franco about the allegations against him that Paley on Twitter. In the below video, Franco says:
First of all, I have no idea what I did to Ally Sheedy. I directed her in a play off-Broadway. I had a great time with her... total respect for her. I have no idea why she was upset. She took the tweet down. I don't know. I can't speak for her — I don't know.
The others... look, in my life I pride myself on taking responsibility for things that I've done. I have to do that to maintain my wellbeing. I do it whenever I know that there's something wrong that needs to be changed, I make it a point to do it. The things that I heard that were on Twitter are not accurate, but I completely support people coming out and being able to have a voice because they didn't have a voice for so long. So, I don't want to shut them down in any way. I think it's a good thing, and I support it.
"Cute #TimesUp pin James Franco. Remember the time you pushed my head down in a car towards your exposed penis & that other time you told my friend to come to your hotel when she was 17?" Paley tweeted. "After you had already been caught doing that to a different 17 year old?"
Paley is not the only one who brought up Franco's presence at the Golden Globes in relation to the #TimesUp movement and the pins so many actors at the event sported.
The "different 17 year old" in question in Paley's tweet may be Lucy Clode, who Franco allegedly hit on via Instagram messages in 2014, according to People.
Clode reportedly met Franco at the stage door with several other fans after he appeared in Of Mice and Men on Broadway, and took photos and video of Franco during the encounter. He reportedly told her to tag him in them, and when she did, Franco began following her on the social media site.
After swapping phone numbers — even though Clode says she told him she wasn't 18 yet — Franco allegedly texted Clode and sought a private meet-up. "You're single? What's the hotel? Should I rent a room?" Franco allegedly asked her in the texts.
After news of the incident got out, Franco appeared on Live with Kelly and Michael in April 2014 and addressed the situation. At the time, he said, according to People:
I'm embarrassed and I guess I'm just a model of how social media is tricky. It's a way people meet each other today, but what I've learned … you don't know who's on the other end. You meet somebody in person and you get a feel for them, but you don't know who you're talking to. So, I used bad judgment and I learned my lesson.
But Paley's accusations beg the question — did Franco really "learn his lesson?" Because a different woman named Sarah Tither-Kaplan also recently tweeted her own allegations against Franco. She claimed he told her that doing nudity in two of his movies for $100 a day "wasn't exploitative."
Tither-Kaplan tweeted about Franco again on Monday, writing:
I rely on powerful people to help me, because I don't have access to opportunities without them. If they choose to abuse their power and take advantage of my need to work, that isn't my fault. It's the fault of the abuser.
And besides the 2014 incident, and Paley and Tither-Kaplan's allegations, another actress didn't seem completely thrilled that Franco was at the Golden Globes wearing a #TimesUp pin, either. In a tweet she later deleted, The Breakfast Club actress Ally Sheedy reportedly wrote, "Ok wait. Bye. Christian Slater and James Franco at a table on @goldenglobes #MeToo," according to The Independent.
Sheedy worked with Franco in a 2014 play he directed called The Long Shift. She reportedly also added in another tweet, according to The Independent:
James Franco just won. Please never ever ask me why I left the film/TV business.
Which implies that Franco was personally a factor in Sheedy's decision to leave the entertainment industry, Us Weekly reported. The fact that Sheedy linked him to the #MeToo hashtag definitely opens up some questions about her interactions with the Golden Globe winner.
So what about these latest allegations from Paley about Franco? The actress claimed she was an adult and not a minor at the time that she had a consensual relationship with the actor, according to The New York Daily News. But she also said the alleged encounter she had previously mentioned was not consensual.
Past allegations of misconduct on Franco's part led many people to question the fact that he wore a #TimesUp pin to the Golden Globes, when so many other attendees did so as a way to stand in solidarity with those speaking out against harassment, discrimination, and abuse of women.
Franco — like many of the other men at the awards show — didn't "explicitly address" the initiative to "fight the industry's inequality" at the event, during his acceptance speech, or on the red carpet, TIME reported.
Whether anything will come of these accusations against Franco remains to be seen. But as always, it's incredibly important to listen to women's stories of harassment and abuse, and to be thoughtful about how people speak out about these issues. Putting on a pin in solidarity doesn't automatically make you an ally. Supporters have to walk the walk in their everyday actions, too. And according to some women, Franco hasn't done that.