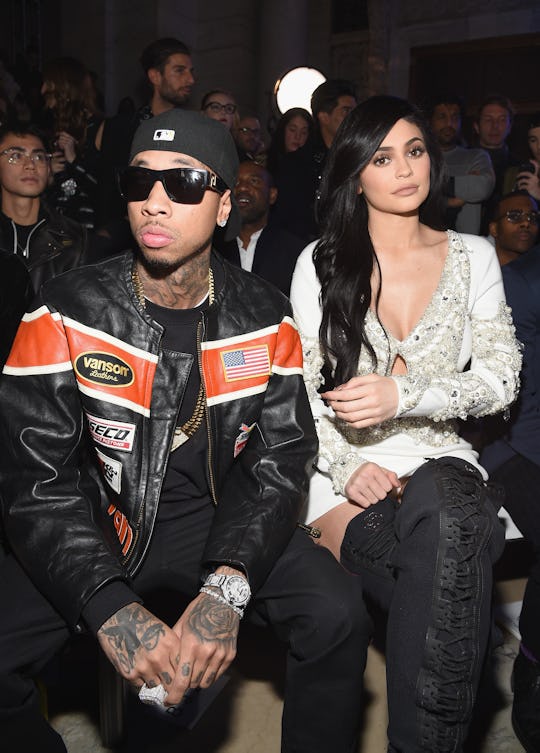 Dimitrios Kambouris/Getty Images Entertainment/Getty Images
Tyga Speaks Out About That Snapchat Response To Kylie Jenner's Pregnancy Rumors
When news of 20-year-old Kylie Jenner's reported pregnancy first broke, her ex-boyfriend Tyga allegedly had some savage commentary to add. Specifically, he insisted in a now-deleted Snapchat that the potential unborn child was his. But now Tyga's Snapchat response about Kylie Jenner's pregnancy rumors was, according to him, actually "fake news," with him speaking out that it never happened. Romper has reached out to Tyga's representation for comment and did not receive an immediate response.
It all started back in September of this year, just mere hours after the baby rumors began to swirl around Jenner. It was reported at the time that 27-year-old Tyga captioned a Snapchat photo: "Hell nah thats my kid," but then promptly deleted the post. The message, complete with a few devilish emoji, was emblazoned across a TMZ report of Jenner's pregnancy. The alleged father to Jenner's future child, should these rumors be true, is believed to be her current boyfriend, 25-year-old Travis Scott. So, naturally, fans latched onto Tyga's potentially contentious information, wondering if there was drama afoot and secrets to behold.
But now Tyga's changed his tune and is saying that he never once claimed that the baby was his. "I didn't comment on anything, I didn't comment on anything, it was a fake story," he stressed to the Metro.co.uk blog, saying that the Snapchat, specifically, was "all a fake story."
But that's not the only viral, "fake news" drama that's managed to surround Jenner and her maybe-baby this week. When photos surfaced of Jenner's supposed baby bump on The Daily Mail, she took to Twitter to insist that the images were photoshopped. "First of all," she refuted on Twitter, "if you're going to photoshop my photos blogs/paps!! Check for the crooked lines in the background. 2nd photo is clearly altered."
In the pictures captured by paparazzi, Jenner dons a black Yeezy sweatshirt and sweatpants. "We are awaiting confirmation on her much talked about pregnancy and in this latest outing we are starting to see a bit of a growing baby bump," The Daily Mail wrote, maintaining its initial assertion that the images weren't retouched.
Photoshopped or totally unedited, fans are still losing their minds while they wait for Jenner to confirm or deny her pregnancy rumors. The Kardashian-Jenner clan has yet to comment on the topic, leading many to speculate that they're saving any sort of reveal for television.
Either way, fans want answers now and if Tyga has them, then everyone's all ears. Jenner's now-defunct relationship with Tyga was especially contentious due to his romantic history. According to E! News, before Jenner, Tyga dated Blac Chyna and the two have a son together, 5-year-old King Cairo Stevenson. After their split, however, Blac Chyna got together with Jenner's brother, Rob Kardashian, and they had a child of their own, Dream Kardashian, who's nearly 1 year old.
But, Rob and Blac Chyna are no longer together either. So, the paternity of Jenner's potential baby seems to be very relevant to fans, which explains the hype that followed that "fake" Snapchat that took over the internet last month.
To be honest, this whole Tyga situation just feels like a distraction from the tangled, messy web that is the Kardashian-Jenner pregnancy rumors. Jenner is reportedly due in February, according to Glamour, so if she isn't pregnant, all of the paparazzi photoshopping in the world won't be of any use. And neither will any hearsay from alleged sources or even those who used to be in Jenner's close circle.
Watch Romper's new video series, Romper's Doula Diaries:
Check out the entire Romper's Doula Diaries series and other videos on Facebook and the Bustle app across Apple TV, Roku, and Amazon Fire TV.