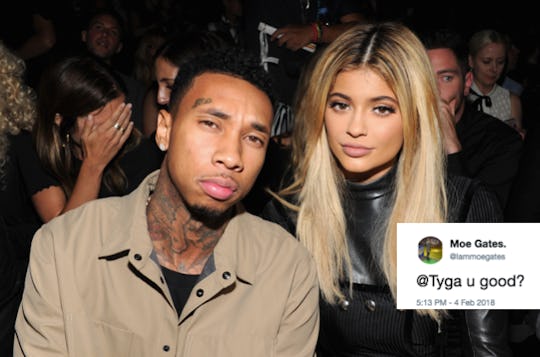 Fans Are *Super* Concerned About Tyga's Response To Kylie Jenner Giving Birth
It's always awkward when an ex moves on with their life, which is precisely why everyone wants to know what Tyga thinks of Kylie Jenner giving birth now that we know the news is legit. On Feb. 4, 2018, Kylie announced that she had given birth to a baby girl with boyfriend Travis Scott. Back when the rumors first surfaced, the Kardashian and Jenner family refused to confirm or deny the rumors, which only made them worse.
Fans who followed the reality star closely are obviously familiar with her previous relationship with Tyga. And once the rumors started circling that Jenner was expecting with her new boyfriend, Travis Scott, fans quickly because interested in what Tyga had to say. Initially, he allegedly left a comment on Snapchat that he later deleted, writing, "Hell nah, that's my kid." People were obviously confused about whether he was joking or if it was possible that Tyga and Kylie had gotten together again.
Later, the hip hop artist told Metro that he didn't claim he was the father of the reported baby. "I didn't comment on anything, I didn't comment on anything, it was a fake story. It's all a fake story," further confusing everyone involve.
Was he denying that he was the father or that the whole Jenner pregnancy, giving birth, becoming a mother story was made up? Luckily, all of the speculation is over now that Kylie herself has confirmed the birth of her daughter and the fact that her daughter is Travis Scott's.
This time around, though, Tyga was not as quick to comment on the news about his ex-girlfriend. At the time of the news, Tyga was noticeably absent on Twitter, Snapchat, and Instagram. While it's completely his own prerogative to not comment on the news, fans were slightly more worried about what the rapper had to say.
Kylie and Tyga have an incredibly long history together. For the longest time, they were reportedly just friends, though many people seemed to know the real deal between them. Their relationship was intense and serious. Tyga got Kylie's name tattooed on his elbow and he went on KUTWK family vacations, including bringing his son Cairo to North West's birthday parties. She was in basically all of his music videos.
It was also dramatic. Remember, Tyga has a baby with Blac Chyna and for the first few years of Kylie's relationship with him, the two women went back and forth on social media, taunting each other and throwing shade.
It wasn't until Kylie's brother Rob got together with Chyna and they had a baby together that everyone all got along. (Well, sort of.) Kylie and Tyga stayed together through their own pregnancy rumors and tons of breakup rumors and fights.
It wasn't until April 2017 when Kylie was first spotted with Travis Scott that the media finally assumed Kylie and Tyga were officially broken up. However, even then fans assumed that she was just taking a breather from her longtime beau. A source told People at the time, "When she and Tyga are having drama, she tries to make him jealous by hanging out with other guys."
This is all to say that Kylie's pregnancy rumors were pretty complicated, if only because her love life was so complicated. Since she and Tyga have a crazy long history together, it's also likely that he knew whether the pregnancy rumors were true or not, and long before she gave birth.
Which means it's actually a testament to their relationship and respect for each other that he was able to keep her secret for so long, especially considering all of the media attention leading up to the birth of another Kardashian/Jenner baby. Hopefully, the two can remain friends and drama free now that Kylie is a mom.
The two have been such good friends for so long, it would be a shame if they didn't stick together during this crazy exciting time for Kylie. Only time will tell, right?
Check out Romper's new video series, Romper's Doula Diaries:
Watch full episodes of Romper's Doula Diaries on Facebook Watch.