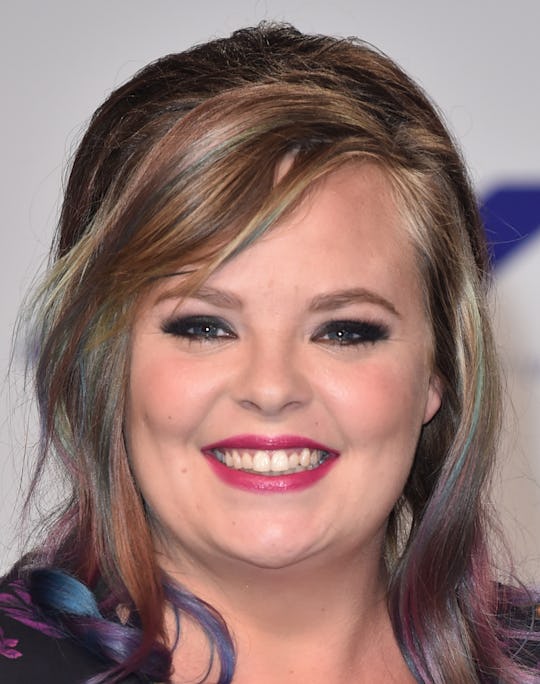 Alberto E. Rodriguez/Getty Images Entertainment/Getty Images
Tyler Baltierra Speaks Out On Catelynn Lowell's Absence This Thanksgiving In The Sweetest Way
Holidays are often spent with friends and family — but this time of celebration and togetherness has a way of reminding us about the people who aren't there to share it with us. Whether they live far away, have passed on, or other circumstances have prevented their presence, facing the holidays without loved ones can feel impossible. And since today is Thanksgiving, many families across the nation are likely feeling these pangs of sadness about the people with whom they are unable to celebrate. Tyler Baltierra has spoken out on Catelynn Lowell's absence this holiday, and fans react in the sweetest way.
In case you need to catch up to speed, the Teen Mom OG mama had taken to Twitter on Nov. 17 to reveal she was seeking treatment for suicidal thoughts, according to People. "Well today I thought of every way to kill myself.. so I'm going to treatment," Lowell, 25, wrote. Baltierra also expressed his thoughts on the matter via Twitter, writing a touching tribute to Lowell. "Incredibly proud of my wife…when she thought she had no choices left, she reached out & decided to LIVE today!" the supportive husband tweeted. "My life would be desolate without her in it. You are beautiful, strong, worthy, & loved @CatelynnLowell."
On Nov. 18, Baltierra posted an update and another public message of support for his wife, after she was taken to a facility. "We just dropped her off. We haven't held each other & just cried like that for a long time," he wrote on Instagram. Baltierra continued:
Even after 12 years, I continue to be AMAZED by her strength, vulnerability, & courage to get help. "As long as I am alive, you will never be alone" - It is my call to arms & I will fight this war with her right by her side, we will not surrender to this...I will go to battle EVERY TIME for her!
Baltierra's latest update came today on Twitter. And clearly, he's missing Lowell this Thanksgiving. "My god! My wife looks absolutely beautiful in this #HappyThanksgiving @TeenMom clip!" he wrote. "It's going to be a rough holiday without being able to kiss her & tell her how thankful I am for her, but we have a strong resilience crafted by our past, we got this!"
Fans didn't take long to step in with messages of support for the family, with one writing, "You are an amazing husband. I'm sure she's missing you all terribly." Another Twitter user commented, "This year is extra special, even though you're not together physically. You should really be thankful she's still here with you. Stay strong; we're all rooting for you guys!"
Baltierra and Lowell's relationship was first chronicled on the MTV series 16 & Pregnant, when Lowell was expecting their first daughter, Carly. In 2009, the pair ultimately made the decision to place their baby girl up for adoption, E! Online reports. They did, however, go on to have another daughter, Novalee. Baltierra and Lowell were married in 2015 and continue to showcase their journey on Teen Mom OG.
Throughout the years, Lowell has remained open about her mental health struggles through the years — and to me, that's extremely admirable. Yes, they're reality TV stars. I realize this. But not only are they showing the not-so-great parts of their lives to the world, they're doing it in real time, and not after everything is "magically" better for Catelynn. Because Lowell and Baltierra are so open and candid — and refuse to stay silent about how mental health disease affects their lives — it helps to spread awareness. And who knows? Maybe others dealing with conditions like anxiety, depression, and more have sought help, too, because of this honesty.
I'm sure little Novalee and her daddy have both missed Lowell terribly today, on Thanksgiving. And I have no doubts that Lowell was wishing she could spend the holiday at home. At the same time, everyone can probably agree that the reality star mom is exactly where she needs to be right now. It's never easy to be away from the ones you love during the holiday season. But my ultimate hope for Lowell is that because she's away this year, she will be present for many, many Thanksgivings to come. Take care, mama. We're all rooting for you.
Check out Romper's new video series, Romper's Doula Diaries:
Watch full episodes of Romper's Doula Diaries on Facebook Watch.