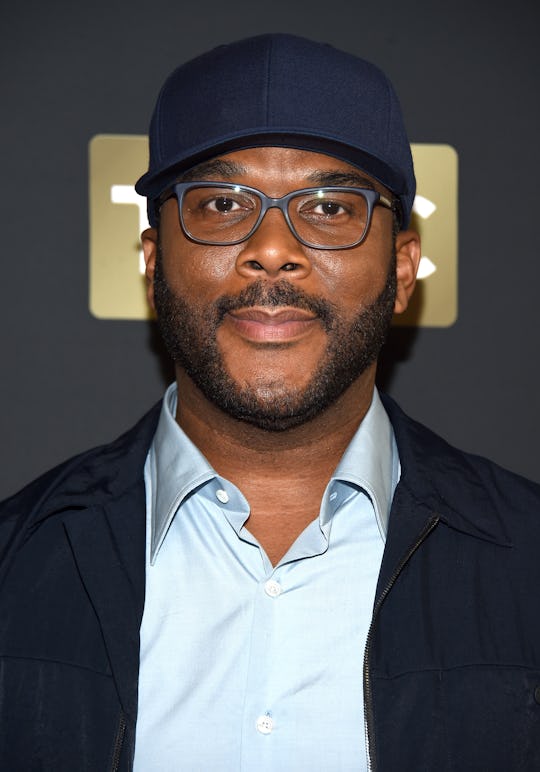 Handout/Getty Images Entertainment/Getty Images
Tyler Perry Was Honored At The PCAs In A Big Way
The People's Choice Awards tend to be one of the less-serious on the awards show circuit, but they do grant a Favorite Humanitarian Award to one person each year, and 2017's recipient was Tyler Perry. He was introduced with a heartfelt (and partially improved, thanks to a teleprompter snafu!) speech by Kristen Bell, and a pre-taped package breaking down his efforts in his community and communities around the world. Then it was his turn to speak, and Tyler Perry's Humanitarian Award speech at the 2017 People's Choice Awards was full of hope.
Bell outlined how swiftly Perry jumps into action when a community is in crisis, citing his humanitarian efforts following the 2010 earthquake in Haiti, his work in the city of New Orleans after Hurricane Katrina in 2005, his work with advocacy groups for the homeless, his civil rights record, his efforts to bring clean drinking water to villages in Africa, his work erecting homes, churches, and schools, and his overall investment in the black community. Not to mention, sometimes he's so touched by tragic local news stories that he just reaches out and helps in whatever way he can.
As part of the award, People's Choice teamed up with Enterprise, who donated $100,000 to the Global Medical Relief Fund (Tyler Perry's charity of choice) in his honor. He was deeply humbled by the gesture and underscored the importance of being a light to others in his speech. It was full of light and dark metaphors, actually (very Harry Potter of him), and in it, he called for people to light one another's way out of the darkness, especially as we look at the current state of the country. "No matter how dark it gets," he said, "We all have to be light for each other."
He also addressed the emotional overwhelm that the onslaught of a 24-hour news cycle can cause, referencing how difficult it can be with so much darkness right in our pockets on our phones. "You don't have to search for it," he explained; it's just always there, bombarding you. He cautioned against allowing that darkness to consume a person's heart, because he fears that it would destroy people's ability to empathize. Perry preached the importance of preserving empathy at all costs, and wanting to bring balance to the darkness by providing a light. He asked the audience to join him in this effort, and the message seemed to resonate.