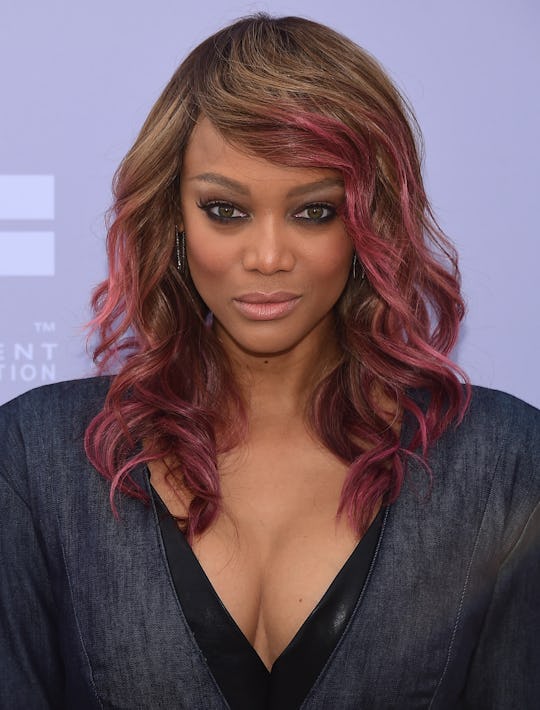 FREDERIC J. BROWN/AFP/Getty Images
Tyra Banks Celebrated Her First Mother's Day With A Super Sweet Instagram Post
There's nothing quite like your first Mother's Day as a mom. New mom Tyra Banks celebrated her first Mother's Day Sunday, sharing her excitement (and an adorable photo) with her social media followers, according to Us Weekly. Banks became a mom in January, after she and partner Erik Aslan welcomed a son, York, by gestational surrogate. In a statement following York's birth, Banks called his arrival a "beautiful bright light at the end of the tunnel" after her struggle with infertility, according to People — something she had to grapple with when she turned 40 and decided that she didn't want to miss out on being a mom.
While Banks opened up in the past about trying fertility treatments, including IVF, to try to get pregnant herself, she opted in the end for surrogacy, and it looks like she couldn't be happier. The model-turned-businesswoman posted a photo on Instagram of herself holding York (and flanked by her own mother), and wrote,
I'm hearing, "Happy Mother's Day" and I can't believe how lucky I am! Of all the fashionable hats I wear, I love being a #mother the most. #HappyMothersDay from me and my mama to all the wonderful women of the world!
Before her son's arrival, she and fellow new mom Chrissy Teigen discussed their similar emotional battles with fertility treatments and IVF during an episode of Bank's show FABLife, according to the Daily Mail. After Teigen lamented the difficulty she and husband John Legend were having trying to get pregnant, Banks shared just how much she could relate:
I am so tired of seeing on my social media, 'Why don't you have kids? Why don't you have kids?' You don't know. You don't know what I'm going through...We're kind of going through this similar thing with IVF. And, you know, putting needles in your tummy every day and having to come to work and smile when you feel like you want to throw up and lay down...I can't believe I'm saying this right now.
Banks also discussed how motherhood had been a goal of hers for years — and that she'd been planning to have a big family ever since she was 23 years old:
For a long time, it was so funny, I was 23-years-old, I used to tell myself 'in three years I'm going to have kids'. Then I turned 24, 'in three years I'm going to have kids.' Every single year I just kept saying that. And then after a while it's like, now I want to, it's not so easy.
According to Entertainment Tonight, Banks and Asla, a photographer from Norway, have been dating since 2013, after meeting on the set of Top Model Norge (Norway's version of America's Next Top Model). Speaking about Asla to ET, Banks said, "we balance each other. He's creative. I'm creative. We just have fun! He's my best friend."
It may have taken longer than she expected, but it definitely sounds like Tyra Banks' dreams for a family have finally come true. And chances are good this Mother's Day was one she'll never forget.