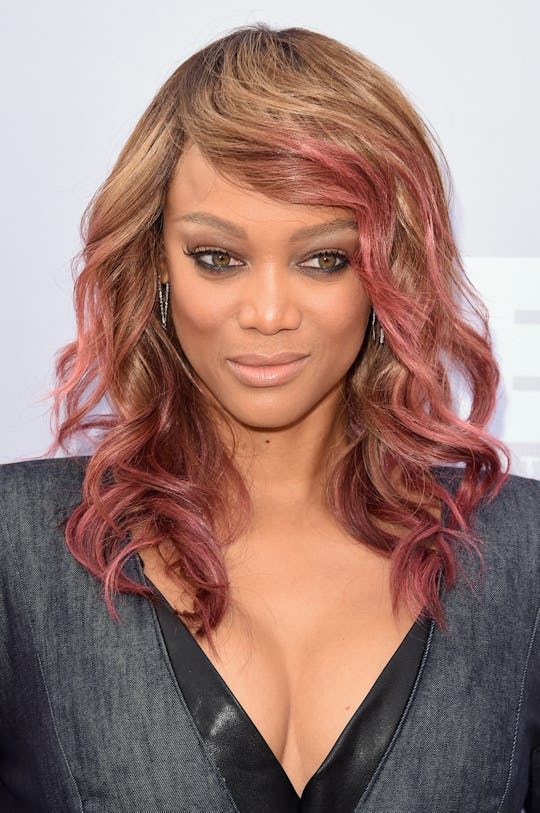 Jason Merritt/Getty Images
Tyra Banks Had Her First Baby Via Surrogate, And Her Announcement Might Make You Cry
It's always nice to hear about a new baby in town, but the announcement Wednesday night that Tyra Banks had her first baby via surrogate might make you feel some feels. Tonight the former supermodel posted a picture on Instagram of the newborn's hat and captioned it:
The best present we worked and prayed so hard for is finally here. He's got my fingers and big eyes and his daddy Erik's mouth and chin. As we thank the angel of a woman that carried our miracle baby boy for us, we pray for everyone who struggles to reach this joyous milestone. York Banks Asla, welcome to the world.
Banks had gone public with her struggles with IVF earlier this year. She told People magazine that it was up and down. She told the magazine, "I've had some not happy moments with that, very traumatic moments." Making it even more difficult was the fact that the television host had always wanted children. She told People in that same interview that having children was something she had wanted since she was in her early twenties but kept putting it off because of her career. She explained, "I'm not for hire, so I have to do everything. I kept trying to find that time for that to happen."
This is Banks's first child with her boyfriend Erik Asla, who she's been dating for two years. She told People that when she turned 40 she decided to just go for it before coming to terms with the fact that conceiving gets more difficult as you get older.
On Wednesday, a rep for Banks reiterated her earlier comments on the difficulty of getting pregnant in an exclusive statement to People. Banks stated that it "has not been an easy process," but that baby York was "a beautiful bright light at the end of the tunnel for me and his father, Erik. "
Banks has long been in the spotlight for modeling and entertainment career. But overcoming her personal struggles with fertility, and then sharing her success with a surrogate, is probably the most inspiring of any of her career moves. Welcome, York! You put a "smize" on everyone's face tonight.
Image: Jason Merritt/Getty Images; Giphy