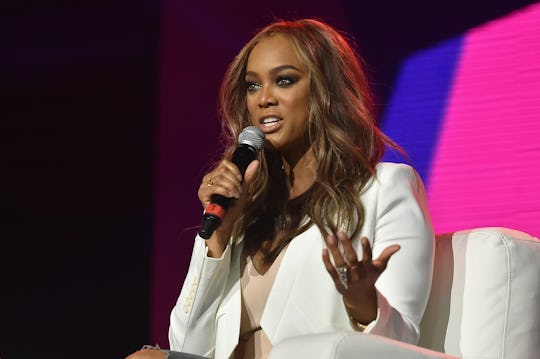 Paras Griffin/Getty Images Entertainment/Getty Images
Tyra Banks Wishes She'd Never Shared A Photo Of Her Son On Instagram
In the age of Instagram and Facebook, it seems like it is impossible not to keep anything to yourself. But when all you want to do is keep some things private, the pressure to share can get a little intense. And that pressure is even worse for celebrities. And that's part of the reason why Tyra Banks regrets sharing her son's photo on Instagram because she was pressured by paparazzi into sharing it. And having regrets about it is perfectly fine.
During an appearance on Late Night With Seth Meyers, Banks shared that she wanted to wait as long as possible to share a photo of her now 18-month-old son, York, with partner fashion photographer, Erik Asla — and was accidentally forced into sharing the photo with fans. Banks told Meyers about the events leading up to sharing the photo, according to E! News:
I went to a restaurant for Father's Day with my son and my dad. It was by the ocean and my son — 'awa' 'awa' 'awa' — water. I was like, 'OK, you're going to get in the ocean for the first time.' I slathered him with sunscreen...he was looking crazy. Got slammed by waves. Sand everywhere. We're leaving and paparazzi [takes his picture] and I'm trying to hide him with a blanket and I pull over into a gas station once they get the shot.
While one would think that the model and host of the reality show, America's Next Top Model, would be jumping at the opportunity to share photos of her son, Banks was a little more reserved. Banks told Meyers that her fear of paparazzi spotting them out and about prompted her to share her son's picture back in June, according to E! News:
I text his dad, 'I've got to put this picture out before the paparazzi. I don't want them to make money off of our child.' I want to beat them to the punch.
But things didn't happen as she expected, according to E! News:
So I post the damn picture, next day, ain't no paparazzi post no pictures because mama knew how to hide that camera, she's a super model for a reason. And now his picture is out there and it didn't need to be!
Still, fans aren't mad that Banks shared that photo of her son on Father's Day, because he could not be any more beautiful. His resemblance to Banks is uncanny — and in the photo, he is definitely smiling with his eyes (or smizing, as Banks would say), just like his model mama.
Even though he is adorable, it is understandable why Banks regrets posting that photo, especially since she has been open about her struggles with trying to get pregnant in the past (York was born through a gestational surrogate).
No mother should ever have to feel pressured to sharing photos of their children, especially if they weren't planning on sharing those photos for a while. Some people want to keep things to themselves, and that is OK.