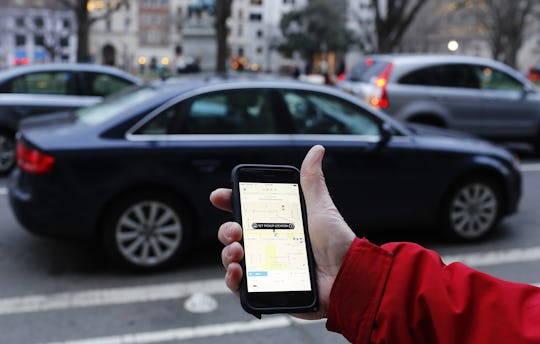 Andrew Caballero-Reynolds/AFP/Getty Images
Uber Driver Refuses Pregnant Woman & It Might Be Time For The Company To Revisit Its Vetting Process
If you've never had a problem with a taxi or car service, consider yourself lucky. According to a report by Fortune's Jeff John Roberts this week, a New York City Uber driver allegedly refused a pregnant woman looking for a ride to the hospital, leaving the woman and her husband standing dumbfounded on the sidewalk. Thankfully, another Uber driver pulled up a short time later, and although he reportedly charged them $13 for his time, the couple was eventually refunded.
Yes, you read that correctly. Lee and her husband, along with her birthing coach, claimed in a comment to Fortune this week that they had called an Uber in New York City last November for the three mile ride to the hospital after Lee went into labor — but just as the the car was pulling up, she vomited on the sidewalk. The couple claimed that the driver then allegedly refused to take them anywhere, reportedly explaining that if the woman threw up in the car, it could cost up to $1,000 out of his wages to clean it up.
There are two ways to look at this situation. First — how rude, right? We're talking about a woman giving birth. Anyone should go out of their way to help, just out of compassion, right? But it's also true that the driver could have been financially responsible for clean up and while it's certainly not model behavior, he had his reasons. Uber plays it both ways: They will reimburse drivers up to a point, but they also say denying rides, like in the alleged incident, goes against their rules.
In a statement to Romper on Wednesday, Uber explained:
Denying service to a passenger in labor is unacceptable. It goes against our code of conduct and the standard of service our riders rely on. We extend our deepest apologies to both riders and have taken action to respond to this complaint. We are glad that the rider's next driver was professional and courteous. As always, we will continue to ensure that all riders and drivers understand and the shared standard of respect, accountability, and courtesy for everyone in the Uber community
Incidents like this may actually say more about the vetting process for drivers than anything else — although, in its defense, Uber has been trying to address that issue (especially since a couple of its drivers have been accused of more serious problems before).
Initially when a driver applies to work with Uber, the company uses a fingerprint and runs it through both state and federal databases. It's not a perfect process — they've allegedly missed some criminal records and even a few DUIs in California, according to an ongoing lawsuit in the state. But Uber has been trying to tweak things and has even made efforts to improve GPS tracking while customers are in a car so that concerned family and friends are able to find specific vehicles if necessary. None of that will necessarily weed out drivers who might be unwilling to give pregnant women a ride of course, but it's a start.
Uber, and other car services, might still need to step up their game when it comes to vetting drivers and protecting their customers. But before you start swearing off Uber because of some of the bad (and allegedly very scary) drivers, remember that there are good ones out there, too. Like this one in India, who let a woman give birth in his car while they were stuck in traffic. (She named the kid Uber in honor of the experience, obviously.)
So sure. There are good drivers out there. You just shouldn't have to go halfway around the world to get one. Hopefully the company will keep pushing for better security and screening, because really, is there anything better than having a cab at the press of a button?
Image: Andrew Caballero-Reynolds/AFP/Getty Images