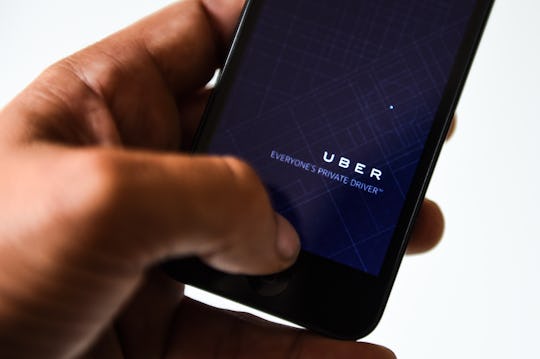 David Ramos/Getty Images News/Getty Images
Uber May Soon Know If You're Drunk When Requesting Rides & People Are Worried About It
Say what you want about Uber, but you have to admit — the ride-sharing service plays a pretty important role in today's society. Having the ability to catch a ride at the tap of a button is invaluable to those who don't own their own vehicle, those who find themselves unexpectedly without a vehicle, and especially to those who make the responsible decision not to get behind the wheel after having a few drinks. It's crazy to think about how many drunk people we aren't sharing the streets with because of the convenience of this ride-sharing service. That's probably why people are worried that Uber might be creating technology that could tell if you're drunk, some experts say.
On Thursday, the U.S. Patent and Trademark Office published a patent application from Uber — and people definitely have some concerns. CNN reported the U.S. patent is for technology that would monitor how users usually use the app in order to flag them when their behavior veers from the norm. So what would Uber be taking into consideration when evaluating the "state" of a customer? The algorithm would assess a number of factors, CNN reported, such as: The accuracy of users' clicking on links and buttons, typos, the walking speed of users, location of the pick-up, and how long it takes users to request a ride.
"We are always exploring ways that our technology can help improve the Uber experience for riders and drivers," an Uber spokesperson said in an email statement to Romper. "We file patent applications on many ideas, but not all of them actually become products or features."
While the patent application doesn't specifically mention that Uber would use the technology to monitor whether passengers are drunk, the general consensus is this is the direction it's heading, Cosmopolitan reported. The next step, naturally, would be allowing Uber drivers to know passengers' predicated "state" before they accept jobs. That way, they could decide whether they want to deal with a possibly drunk/unpredictable passenger in their vehicle. On one hand, this could make sense for drivers who don't feel comfortable dealing with drunk people. On the other hand, isn't that kind of par for the course when a person starts working for Uber?
As Cosmopolitan pointed out, drivers knowing whether potential passengers are drunk could theoretically leave vulnerable passengers at risk. That's because drunk customers requesting solo rides could become even bigger targets for predators than they already are. Because it's no secret this ride-share service has had serious issues with assaults/abuse of sexual nature. Within the past four years, at least 103 Uber drivers in the U.S. have been accused of the sexual assault or abuse of passengers, CNN reported — many of whom were drunk or drinking before catching an Uber ride.
"This is just a start and we are committed to doing more," a spokesperson told CNN, after it made the decision to re-run driver background checks annually and new safety features were added to the Uber app. "Sexual assault is a horrible crime that has no place anywhere. While Uber is not immune to this societal issue, we want to be part of the solution to end this violence forever." Romper has reached out to Uber for comment concerning drivers' reported sexual assaults, but did not immediately hear back.
Twitter seems pretty concerned over the possibility of such technology. One Twitter user made a valid point, writing, "If you don't want to drive around drunk passengers being an Uber driver is probably not for you."
Another person echoed this sentiment, tweeting, "Isn't that the point of Uber, to get a safe ride home when you may be too intoxicated to drive yourself home safely?"
Yet another Twitter user pointed out that implementing such technology would effectively be like Uber shooting itself in the foot. "Why would Uber want to take out half their business?" they tweeted.
And another person pointed out what many news outlets have voiced concerns about, writing, "It could massively backfire by putting passengers in vulnerable position...bad idea."
My question is this: What is the company ultimately using this technology for? If Uber really is trying to predict whether customers are drunk, what does this mean, exactly? Could drivers decide they don't want to drive an inebriated person to their destination (And if they do take on a drunk rider, could they potentially get paid more?) Would it just give drivers a heads-up? What are they getting at? And how would Uber protect users' information/data? At this point, there's so much we don't know about how this technology could be used. If/when Uber decides to implement this technology, the company would likely make more information available.