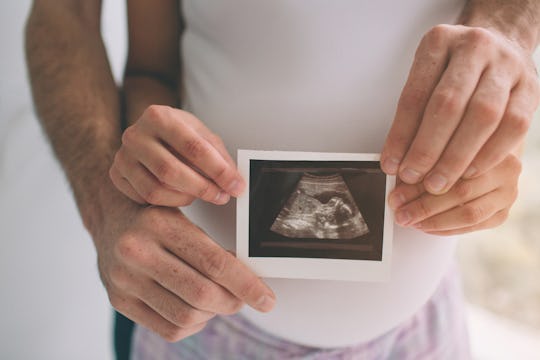 estradaanton/Fotolia
Ultrasound Nails Are A Thing & You Have To See It To Believe It
It seems like every single day, people are more creative than me manage to find new ways to announce their pregnancies and celebrate their babies-to-be. And today, my friends, some talented nail artists are helping expecting moms do just that by painting actual images of their fetuses on their nails. Yes, ultrasound nails are a thing. I know, who knew, right?
Ultrasound nail art officially got its start in April 2018, when UK-based artist Sarah Clarke nailed her first attempt at replicating a client's ultrasound image on a full set of acrylic nails, according to Clevver.com. Clarke shared her amazingly detailed hand-painted fetus nail art on Insta, which of course went viral and has resulted in quite a few requests for "ultrasound nails" from other expecting moms who, obviously, don't think it's creepy at all to have an image of their fetus painted on their nails. Hey, to each their own my friends!
As with other unusual beauty trends, nail artists everywhere are trying their hand at ultrasound nails, giving mom-to-be clients unique and memorable manicures for birth announcements and baby showers alike, and even sharing tutorials for at-home DIY ultrasound nails.
As reported by Clevver.com, nail artist Sarah Clarke of SARenity Hair and Beauty in Stockton-on-Tees, UK first started the unusual beauty trend, with a set of ultrasound nails for client, Stacey Donaldson. The image of the finished product quickly went viral via her Instagram, and her amazingly detailed take on baby-shower nails resulted in similar requests from existing clients and around the world.
So, how does she do it? As Clarke explained to Pretty52, she first applies the acrylic nail to her client's nail, and then actually hand-paints a tiny copy of the ultrasound image on the acrylic nail with an oh-so-tiny brush. Even more unbelievable? The set of nails that went viral and started this trend was her very first attempt at painting the image of a fetus on a nail.
Since she started designing ultrasound nails, Clarke has done a few sets for both moms-to-be and parents who have lost their babies, which make these one-of-a-kind nail designs even more special and memorable. As she told Pretty52, "I have now got quite a few people booked in for these including a few people who have lost their babies and want it for an occasion."
If you live nearby or are willing to travel to the UK, you can book an appointment for custom ultrasound nails at SARenity Hair and Beauty. A full set of acrylics, including a hand-painted ultrasound image of your fetus, will only set you back £40 (or $52.64 U.S.), according to Pretty 52.
If travelling to the UK for fetus nails, before your baby shower or special event is not convenient, don't worry. Several other artists have jumped on this nail trend, offering their own spin on fetus nails. Like Doug at Hard Rock Nails in Toronto, Canada, who designed a set of unique ultrasound image acrylic nails for Insta user and mom to three, ladii_steel, for her baby shower in April.
And for those who want an even more realistic (and creepy) version of fetus nails (because, why not?) just in time for Halloween, check out this 3-D fetus acrylic nail, designed by artist KaraLee of KaraLee Nails.
If you are a nail artist yourself or like to pretend to be one in the comfort of your own home, you can try your own hand at DIY ultrasound nails. Instagram user Nailaddictionx shared a tutorial to show followers just how they do their version of 3-D ultrasound image nails. I wonder if anyone's nailed it? Yes, pun intended. Sorry, not sorry.
If you haven't had an ultrasound yet, don't worry. For a more subtle (and sweeter) take on ultrasound nail art to celebrate your baby's impending birth, you can have your nail artist translate their fetal heart rate into this adorable image for your nails.
So, yes, ultrasound nail art is totally a thing and it looks like it's here to stay. With a talented nail artist at hand or a bit of DIY magic, you, too, can join in on this creative trend.