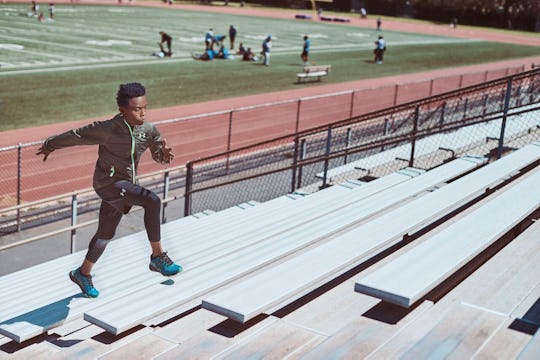 Under Armour
Your Kids Will Actually *Want* To Bundle Up In Under Armour's New Outerwear Line
Historically, kids' winter jackets aren't known for being particularly... fashionable. Puffy? Sure. Warm? Hopefully. Impossible to move around in? Probably. But definitely not fashionable, and definitely not exciting. Except right now, there actually is something exciting happening in the world of winter jackets: Under Armour's new Youth Outerwear Collection is launching, and this will be the label's most expansive kids' outerwear collection yet. So what can you expect from the new line? With more than 40 styles, there should definitely be plenty to choose from.
Kids can be super picky about their coats and jackets, as you know if you've ever zipped up a small, whining person in something that was too "hot" or "itchy" — so a variety of options is a big plus. Usually, the best you can hope for is to find something your child doesn't absolutely hate in a color they at least sort of like. But the new Under Armour line was designed with the help of input from actual kids, which bodes well, as kids tend to know what their peers like (and, perhaps more importantly, don't like). Plus, let's face it... chances are a large portion of your child's wardrobe is Under Armour stuff, anyway. (I swear it's like my son's middle school has an "Under Armour Only" dress code.)
Whether you're looking for a relatively light, fall-into-winter kind of coat for everyday wear or a heavier duty affair for a week on the slopes, this collection includes fleeces, puffers, ski-jackets, bombers, and more, in lots of different patterns and colors. And just in case that's not enough to get your child interested, Under Armour enlisted some especially inspirational kids to model their new outerwear looks: A group of young, on-the-rise athletes including figure skater Audrey Shin; free-skier Troy Podmilsak; soccer star Chloe Shimkin; football standout Bunchie Young; nationally-ranked twin snowboarders, Devin and Barrett Hendrix, and others. Of course, the kids make the jackets look awesome (and vice versa).
Chloe Shimkin's Prime Puffer Jacket ($70) is making up for her shorts during a (probably chilly) nighttime practice...
Meanwhile, Bunchie Young looks like he's about to take flight in the Print North Rim Pacific Bomber Jacket ($60).
If Audrey Shin can pull this off, her Reversible Bomber Jacket ($70) must be flexible!
Thanks to the cozy, colorful Rocky Pine Jacket ($155), Devin and Barrett Hendrix don't feel the cold despite their snowy mountain surroundings.
Ready to shop? Lucky for you, the collection is available starting today in both the United States and Canada via Under Armour's website, with items available in sizes Toddler to Youth XL ranging from $55 to $155.
And yes, I know it feels like those low temps might never actually come this year (here in Connecticut, my kids have yet to wear anything besides shorts and we're more than halfway through September), but they'll be here before you know it. So if the cold weather is something your family looks forward to — or even if the winter is something you dread — you'll want to make sure you've got those outerwear wardrobes in place before all the cool Under Armour jackets are sold out. (Personally, I have a feeling they'll be flying off the shelves before Halloween!)
·