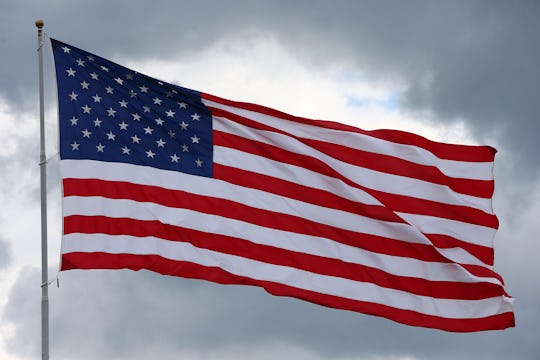 Tom Pennington/Getty Images Sport/Getty Images
Child Marriage Is Still Rampant In The United States
In an eye-opening New York Times op-ed, writer Nicholas Kristof details the story of an 11-year-old child bride named Sherry Johnson. After reportedly being raped and impregnated by a 20-year-old member of her family's Pentecostal church in Florida, Johnson was allegedly married to her rapist. Despite not even being a teen, her parents reportedly decided to force Johnson to wed in order to subvert a statutory rape investigation. Romper could not reach Johnson's parents for comment. Many people may want to believe that such a harrowing story as Johnson's is an anomaly in our country, however, thousands of underage girls are still being forced to wed in the United States. The most shocking aspect of all, though, is that these marriages are totally legal.
Unchained at Last, an organization that works to ban child marriage in America, states that more than 167,000 people age 17 and younger were married in 38 states between the years 2000 and 2010. The organization discovered this information by searching through available marriage licenses, however, they extrapolate that around 250,000 child marriages took place throughout the entire country during that time frame. The New York Times reports that the United States Census Bureau confirms that, at the very least, 57,800 Americans between the ages of 15 to 17 reported being married in 2014.
Every single state in the United States allows underage girls to be wed without their consent. The only requirement is the consent of the child's parents or a judge. What's worse is that 27 of the 50 states do not even have a minimum age by statute, according to the Tahirih Justice Center's Forced Marriage Initiative, which means a child of any age can be legally married in this country. It raises the question: Why has the U.S. State Department condemned child marriage in foreign countries, calling the act a "human rights abuse that contributes to economic hardship," but won't pass legislation to curb the practice in their own country?
The United States government has had ample opportunity to pass laws that would, at the very least, create a mandatory age minimum for underage marriage. Legislators in both New Hampshire and New Jersey nixed bills that would mandate people be a minimum age of 18 to wed in their states. A small glimmer of hope remains in New York, though, as legislators consider a bill that would raise the current minimum age for marriage from 14 to 17. The bill is currently backed by Gov. Andrew Cuomo, which will hopefully help get it passed.
Kristoff points out in his Op Ed that those who oppose putting restrictions on child marriage in the United States "worry that raising the age will lead to out-of-wedlock births, and they note that many underage marriages are consensual." Judges and marriage clerks often refrain from interfering when they see underage girls being forced to wed, as well, because they don't think it's appropriate to intrude on other cultures, such as conservative Christian, Muslim, and Jewish religions. At some point, though, the United States must reckon with the extremely damaging affects these marriages have on the young girls involved.
Children cannot consent to marriage, so we must stop allowing underage girls to be forced to wed. If the United States government can denounce forced child marriages in Asia and Africa, it can certainly start making a meaningful effort to end the pattern in their own country.