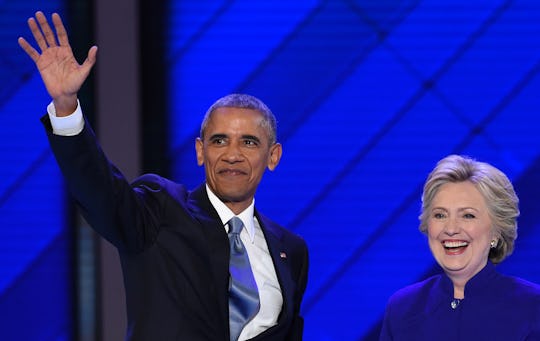 SAUL LOEB/AFP/Getty Images
Unforgettable Quotes From President Obama's DNC Speech
The Democratic National Convention is kind of like a massive, four-day concert, and tonight, President Barack Obama was the eagerly anticipated headliner. Given presumptive nominee Hillary Clinton's currently high unfavorable ratings, Obama was under a lot of pressure to show support for his long-time colleague. And as these unforgettable quotes from Obama's DNC speech prove, he did not disappoint.
From celebrating Clinton's strength and toughness, to describing her incredible work ethic and tenacity, to highlighting her life-long work for children's health, job creation, civil rights, and the strength of the military, Obama forcefully and powerfully doubled down on the great promise of a Clinton presidency. Wisely, he even faced head-on the criticism that has been mounted against her, stating that she's been "accused of everything you can imagine — and some things you can't." But making mistakes, Obama pointed out, is inevitably "what happens when we try." And as Obama hoped to make clear, Clinton is a public servant who tries to do what's best, even if it involves compromise.
Of course, amidst all the Clinton-praise, Obama threw in some comments about the success of his own administration, and deservedly so. He recounted the triumphs of eight years under a progressive president, and highlighted the dangers that Republican nominee Donald Trump poses to the health and safety of the nation. This speech was packed with memorable moments.
Here are some of the best.