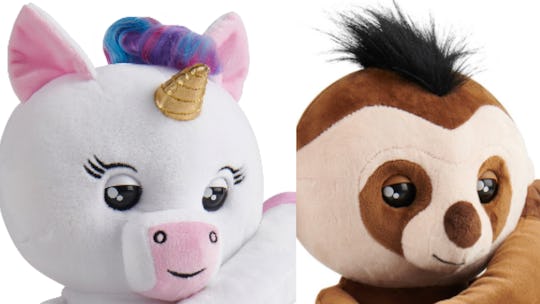 The New Unicorn & Sloth Fingerlings Hugs Will 100% Be On Your Kid's Wishlist This Year
Pretty much every year around the holidays, there's a new toy that every kid just has to have, which sends parents on a desperate search to make their sure kid gets to unwrap the top item on their wish list. This year, that toy might just be the new Fingerlings Hugs. A new squad of these colorful, huggable, toys has now hit stores — just in time for the holiday shopping season.
Fingerlings were the hot toy in 2017, according to CNBC, so it wouldn't be a shock if their newest line-up ends up a huge seller, too. The original Fingerlings are tiny enough to wrap around a child's finger, and can do tons of cute stuff like giggle, blow kisses, and blink. Fingerlings Hugs, however, are bigger, snugglier, and even more interactive. The $30 plush dolls are large enough to give your kiddo a big hug, with long arms to wrap around them. The first set of Fingerlings Hugs hit stores in August according to Heavy, monkeys called Bella and Boris. The latest trio adds some new animals to the mix. There's Gigi the Unicorn, Kingsley the Sloth, and Kiki the Glitter Monkey.
Fingerlings Hugs have some fun features that the original tiny toys don't. If your kiddo presses their furry friend's mouth to their skin, they'll get a great big smooch. They can also record words and sounds in a Fingerlings Hugs' left ear, which the toy will then repeat back to them. And just like the originals, if you give 'em a shake, they'll let out a toot — what kid doesn't find flatulence funny?
If you want the whole set of the newest Hugs, you'll have to hit up a couple of different stores (or websites). Each of the three new Hugs is exclusive to one retailer. Kiki is only available at Amazon, Gigi's at Walmart, and Kingsley can only be found at Target. If history is any indication, you'll want to snag your new Fingerlings early if you plan on buying one. Pop Sugar noted retailers had trouble keeping Fingerlings in stock around the holidays last year. Naturally, many parents turned to re-selling sites like eBay, where they had to pay through the nose. OK! magazine reported that Fingerlings were being re-sold for exorbitant prices last year on eBay, with one person charging as much as 40 times the original cost for a single hard to find little monkey (I can't help but hope that price-gouger didn't find a buyer).
The original Fingerlings were named both the Toy of the Year and the Collectible of the Year for 2018 by the Toy Association (which sounds like an amazing place to work). Clearly WowWee, the company that makes Fingerlings, knows how to give kids what they want. Time noted that the company had sold a million Fingerlings *before* the holidays even hit last year, so I'd imagine their factories will be super busy again this holiday season keeping up with the demand. My toddler hasn't asked for one just yet, but I feel like I should go order one — just in case.