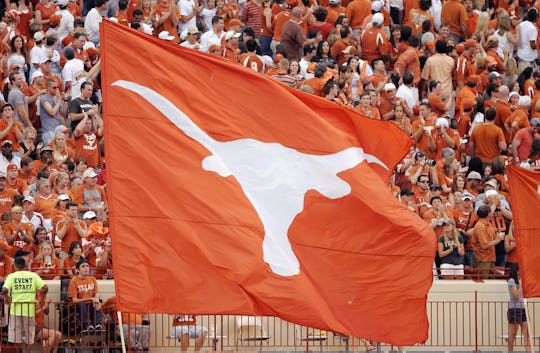 Brian Bahr/Getty Images Sport/Getty Images
University of Texas To Allow Students To Carry Handguns On Campus, & It Isn't The First
On Wednesday, University of Texas President Gregory Fenves approved a new school policy that will allow students to carry handguns on the Texas-Arlington campus. Administrators were forced to amend the school's previous handgun policy when the Republican-run legislature passed a "campus carry law," which allows students to carry concealed handguns into classrooms, dormitories, and other buildings at public universities, according to the National Conference of State Legislatures. Ferves, like many in liberal Austin, opposed allowing guns on the roughly 50,000-student campus, but he has also stated he must follow state law, according to CNN:
I have thoroughly reviewed the policy recommendations of the Campus Carry Working Group and decided to adopt them. Under the law, I cannot adopt a policy that has the general effect of excluding licensed concealed handguns from campus.
Previously, Ferves stated he does not believe guns have any place at school — his or any school — according to ABC:
I do not believe handguns belong on a university campus, so this decision has been the greatest challenge of my presidency to date.
But his hands were tied.
Gun rights activists have insisted it is their right to have weapons on campus, citing the Second Amendment. And, according to ABC, theses activist have also stated conceal and carry is a critical self-defense measure. However, not everyone agrees. In fact, in October, more than 280 professors signed a petition calling the new law a "direct assault on our free speech rights," according to CNN.
And then there's this (which truly needs no explanation):
Private schools are allowed to keep banning weapons as they see fit — and many have, according to ABC. Private schools that will not allow concealed handguns include Baylor, Rice, Southern Methodist, and Texas Christian universities, the largest and most influential private schools in the state.
That said, the University of Texas isn't the first school to allow students to carry guns on campus, nor is it the first state that has such a law in place. Colorado, Idaho, Kansas, Mississippi, Utah, Wisconsin, and Oregon also allow students to carry concealed handguns on campus, according to Armed Campuses. (The same website also includes a thorough list of which schools allow concealed weapons, by state.)
It should be noted that while concealed handguns will be allowed, open carry on campus remains prohibited.