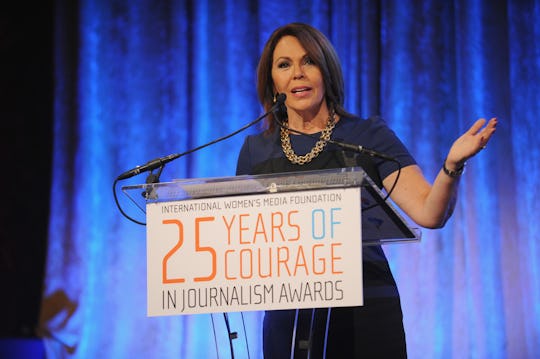 Bryan Bedder/Getty Images Entertainment/Getty Images
Univision Reporter Booed For Speaking Spanish, But She's Not Backing Down
Make America heckle again? A Univision reporter was booed for speaking Spanish and talking about Donald Trump during a graduation ceremony at California State University, Fullerton this week. Commencement speaker Maria Elena Salinas, a Peabody-award winning anchor for the Spanish language network, was reportedly called "trash" during her speech to CSU graduates.
Roughly 37 percent of CSUF students are Hispanic, and Salinas, who was raised by immigrants in California, chose to address the Latinos in the audience during her speech to CSU's College of Communications directly. She spoke in Spanish to the Latino graduates and their parents about how proud she was of this generation. Then things started going downhill.
Denise De La Cruz, a graduate who attended the ceremony and wrote about her experience for OC Weekly, said, Salinas' speech "was well-received until it became a little too Latino-centric for some."
"The Univision broadcaster began specifically congratulating Latino journalism graduates for what seemed like a large chunk of her speech," De La Cruz wrote. At that point, non-Hispanic students reportedly began shouting "What about us?" when Salinas stared speaking in Spanish. The California-native wished students well, in Spanish, on their "future in this country." De La Cruz suggested this interruption was a bid by students to make Salinas "switch to a more inclusive tone."
When she switched back to English, Salinas noted that it was wonderful being able to deliver her speech in two languages (English and Spanish), which elicited a round of applause from the crowd.
Some audience members also took offense when Salinas' speech became, according to De La Cruz, "blatantly anti-Trump." The anchor addressed the presumptive Republican presidential nominee's rise and offered journalism students advice on how to "use the tools of the media to rebut political figures."
"They blame us so much for so many things," Salinas told the crowd of communications students. "Now they're even blaming us, the media, for creating Donald Trump. Imagine that."
At this point, you can hear anonymous audience members heckling the speaker in a YouTube video of the event, although you can't make out exactly what they are saying. "Isn't that terrible?" the Spanish-language reporter continued ignoring the jeers. "But we didn't [create Trump], right? Who did it?" she asked rhetorically. "I don't know. Who did it? But they're to blame."
Attendants, like De La Cruz, claimed they heard the crowd calling Salinas "trash" and demanding she "get off the stage."
Salinas responded to the criticism on Twitter. "I didn't hear what they said," the reporter wrote. "But if they complained about me speaking in Spanish it's sad racism is on the rise."
"It's really sad that people can turn such a special moment into a racial war," Salinas said in an interview with The Washington Post on Tuesday. "Because it seems like that is what happened." She continued,
I don't think I insulted anyone by saying a few words in Spanish to the parents. The whole speech was directed to everyone. … I think the message is, we have to cool down the intolerance right now, we really do. This is ugly, what's happening in the country.
A two-part series on xenophobia Salinas did for Univision had just aired on Thursday and Friday, a fact that disheartened the long-time reporter. "Two days after my xenophobia series aired, this happens. It's really sad, what's happened to our country."
Salinas has received both praise and criticism for her commencement speech, especially on Twitter. One student responded to her comments, claiming the boos weren't the result of racism but because they felt her comments were only directed to Latino students, excluding others. Salinas simply replied, "Unless you're Native American we are all from immigrant families."
Another graduate said the students were booing the anchor for infusing her commencement speech with divisive political opinions.
Not everyone in the crowd found Salinas' speech distasteful. Indeed, there were several rounds of cheers and applause throughout. One supporter tweeted their dismay at those who chose to boo and heckle. "When @MariaESalinas is delivering a beautiful keynote speech at a graduation & racist white people r flipping her off & yelling obscenities."
Salina retweeted and replied to the comment saying, "That's not the 'America' we want." Indeed, it isn't.