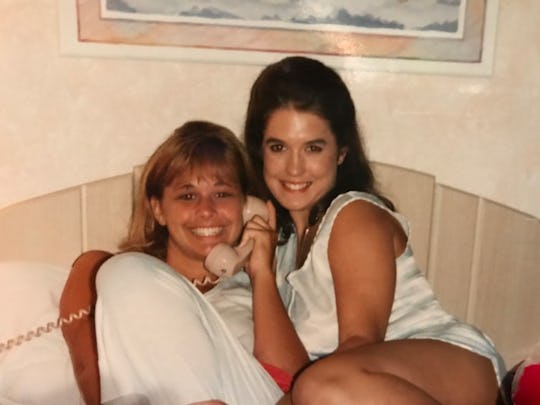 Maria Harber
The 'Up and Vanished' TV Show Will Share ALL New Info On The Tara Grinstead Case
It's been well over a year since the Up and Vanished podcast nearly single-handedly brought the 10-year-old cold case of missing beauty queen, Tara Grinstead, back to life. Though host and investigator Payne Lindsey has moved onto Season 2 and a brand new cold case, he's already teasing details of the upcoming Up and Vanished television show. When I spoke with Lindsey on the phone recently — which, quite frankly, was weird since I've been listening to his podcast for so long — he revealed that the Up and Vanished television series is coming to Oxygen very soon. Even more exciting, Payne Lindsey says we'll see all-new information about the Tara Grinstead case in the Up and Vanished series premiere alone.
"We've been following along Tara Grinstead's case since the podcast stopped," Payne told me when I asked if he was still involved now that the case was no longer the focus of his hit podcast. "We've also shot a TV pilot for the Up and Vanished TV show on Tara Grinstead's case, and I would say about 90% of that pilot is all new stuff." Like any true crime addict, I pushed for more details... but Lindsey's lips were sealed. While he's a true professional and I remain a complete and total novice, Lindsey did share that everything we'll see on the show are things that very well could have been in the podcast. "But there's a lot more we've learned since the last episode of Season One, and we've continued to follow it since then."
Those of you who listened to the first season of Up and Vanished's podcast might remember Lindsey mentioning that he was filming visual footage as he was recording audio. Since he was talking about the series, I couldn't help but inquire if any of that raw footage — for example, in Episode 4 when Lindsey crawled under a house to dig through dirt after receiving a tip that there might be a body buried underneath it — would be seen on the TV show. "Yeah, absolutely. A lot of the stuff we shot during the season is used throughout the series," Lindsey explained, which was exciting to hear. "It's just callbacks and searching under the house, all these different things that I did end up filming, those elements are in there."
However, there will be plenty of brand new footage to go along with the old, Lindsey told me. In fact, the way he explained it, we might finally be putting faces to the voices we came to know so well. "Yeah, most of it's new because I went back to Ocilla, re-interviewed people, and also interviewed new people," Payne shared. The first people that come to mind when I hear that? Lindsey's own grandmother, who was a vital source in the beginning thanks to her very own connections within Ocilla. Plus, Dr. Maurice Godwin, Dusty Vassey, and Philip Holloway, etc.
For those of you who aren't up-to-date on the Tara Grinstead case, her murder is still awaiting trial in Irwin county, Georgia. It was about mid-way through the first season of the Up and Vanished podcast that the first suspect, Ryan Duke, was arrested for allegedly murdering Grinstead in October 2005, as reported by The Telegraph. As I previously mentioned, this arrest came after Grinstead's case had gone ice cold with the local police and the Georgia Bureau of Investigations, and seven months after Lindsey's Up and Vanished podcast took off.
Personally, I don't recall a time when Lindsey ever took full —or any, really — credit for bringing this case back to life with his podcast, but it would be hard to argue any differently. Though Up and Vanished hadn't been focusing on Ryan Duke as a suspect just yet, it's safe to assume that his podcast resonated deeply within people who had knowledge of Grinstead's disappearance. Once those people started talking, the writing was on the wall for Ryan Duke and the later revealed second suspect, Bo Dukes, who was indicted a few months after Duke's arrest, as also reported by The Telegraph.
Lindsey was even able to interview one of those people, Brooke Sheridan, the girlfriend of Bo Dukes, whose family owned the pecan ranch where Grinstead's body was allegedly dumped, destroyed, and, eventually, discovered by investigators in 2017. Will Brooke be featured on the Up and Vanished television series, too? From one true crime addict to many others, we can only hope.
There were many twists and turns in the Tara Grinstead case — far too many to recant here and now — but as followers await her murder trial to begin, hopefully Lindsey's new discoveries and the Up and Vanished television series will shed some light on this truly mysterious case.
For now, you should definitely tune in to Season 2 of Up and Vanished as Lindsey and his team dive into the cold case of missing mom, Kristal Anne Reisinger.