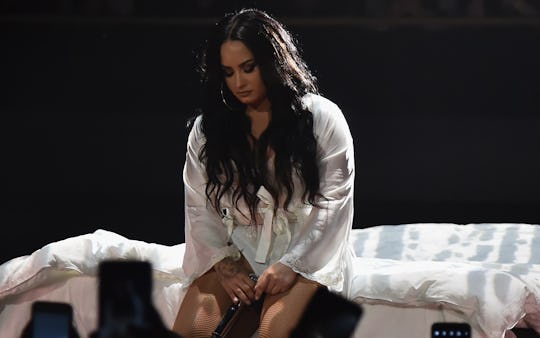 Kevin Mazur/Getty Images Entertainment/Getty Images
Here's The Latest On Demi Lovato's Condition
Fans of Demi Lovato were heartbroken by the news that she reportedly suffered from an overdose on Tuesday, July 24, and was rushed to the hospital after being found unconscious. The latest update on Demi Lovato's condition includes a show cancellation for her scheduled Atlantic City appearance on Thursday night. "Demi's Atlantic City appearance on July 26th has been canceled in light of today's news," according to a statement by Live Nation provided to Variety. "Tickets will be valid to attend the Lauv performance on July 26th along with The Chainsmokers show on July 29th as part of the Atlantic City BeachFest Concert Series. Refunds are also available at point of purchase if preferred."
It's the only cancellation thus far, although the singer is scheduled to perform two concerts in Mexico in September, followed by Chile, Argentina, and several shows in Brazil throughout November. According to TMZ, Lovato, who has been open about her struggles with substance abuse, was transported by ambulance from her home in the Hollywood Hills just before noon on Tuesday. She had just performed at the California Mid-State Fair with Iggy Azalea on Sunday. The singer was reportedly found unconscious by paramedics, but her aunt, Kerissa Dunn, posted on social media that she's now "awake and responsive."
A representative for Lovato provided the following statement to TMZ:
Demi is awake and with her family who want to express thanks to everyone for the love, prayers and support. Some of the information being reported is incorrect and they respectfully ask for privacy.
Some sources have reported that Lovato overdosed on heroin, while others deny that was the cause. Lovato was reportedly administered Narcan at the scene, which is used as an emergency overdose treatment for multiple opiates. In 2010, Lovato entered treatment for bipolar disorder, bulimia, self-harm, and addiction, according to People. She relapsed shortly thereafter, and then spent a year at a sober living facility. In March of this year she celebrated six years of sobriety, but in the lyrics to a new song, "Sober," released in June, she revealed that she'd relapsed again.
Momma, I'm so sorry, I'm not sober anymore / And daddy, please forgive me for the drinks spilled on the floor / To the ones who never left me, we've been down this road before / I'm so sorry, I'm not sober anymore
And I'm sorry for the fans I lost who watched me fall again / I wanna be a role model, but I'm only human
I'm sorry that I'm here again, I promise I'll get help / It wasn't my intention, I'm sorry to myself
Narcan is the brand name for the generic drug nalaxone, which reverses the effects of an opiate overdose by blocking the opiate receptor sites and restoring a normal breathing pattern, according to Time. Narcan is administered via a nasal spray, but other brands, such as Evzio, come in an auto-injectable device similar to an Epi-Pen, and can be obtained without a prescription. Most insurance plans cover naloxone, and many public health programs provide free doses to those at risk. Without insurance, generic naloxone costs $20 to $40 per dose, while Narcan can cost up to $140 for a two-dose kit.
In April, U.S. Surgeon General Dr. Jerome Adams issued a public health advisory urging more Americans to keep nalaxone on hand and learn how to administer it:
I, Surgeon General of the United States Public Health Service, VADM Jerome Adams, am emphasizing the importance of the overdose-reversing drug naloxone. For patients currently taking high doses of opioids as prescribed for pain, individuals misusing prescription opioids, individuals using illicit opioids such as heroin or fentanyl, health care practitioners, family and friends of people who have an opioid use disorder, and community members who come into contact with people at risk for opioid overdose, knowing how to use naloxone and keeping it within reach can save a life.
If you or a loved one is struggling with addiction, you can call the Substance Abuse and Mental Health Services Administration National Helpline at 1-800-662-HELP for referrals to local treatment facilities and support groups.