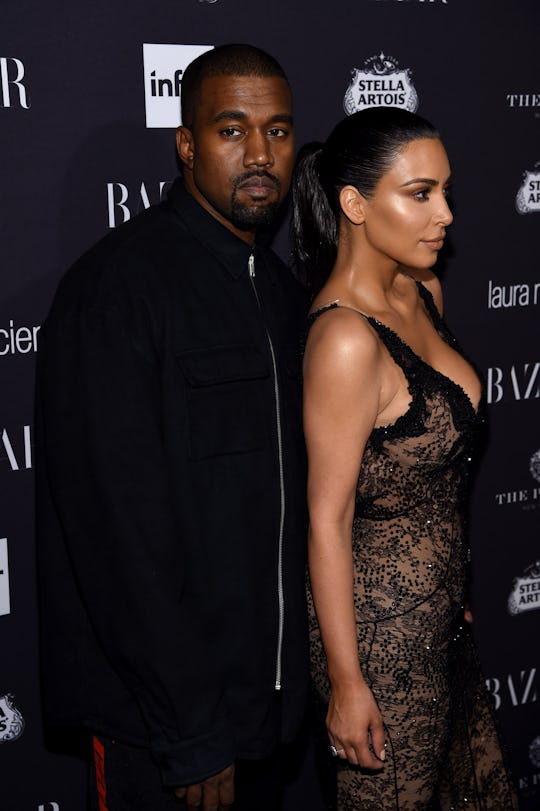 Dimitrios Kambouris/Getty Images Entertainment/Getty Images
Updates On Kanye West's Hospitalization Show Kim Kardashian Hasn't Left His Side
It definitely hasn't been an easy week for Kanye West. Following a series of headline-making rants during recent concert stops, the rapper was admitted to hospital in Los Angeles on Nov. 21 amid reports he was behaving "erratically" during a visit with his personal trainer, according to Us Weekly. Not much is known about West's current wellbeing, but the latest updates on Kanye West's hospitalization suggest that his wife, Kim Kardashian, has been at his side throughout the ordeal, even sleeping at the hospital and helping to feed him. West is reportedly being treated for exhaustion, though TMZ has claimed he is also allegedly "paranoid and profoundly depressed," and has been dealing with ongoing mental health issues. (West's rep did not immediately return Romper's request for comment.)
According to People, Kardashian was in New York City at the time of West's hospitalization, and was scheduled to appear at the Angel Ball, which would have marked her first official appearance since she was robbed at gun-point in Paris on Oct. 3. But after receiving news about West's condition, she canceled the appearance and flew back to Los Angeles. According to Us Weekly, Kardashian has only left the hospital since to see her children, and spent Thanksgiving by his bedside. A source told the magazine:
[Kardashian] has been keeping a very close watch on him and not letting people disturb him. All kinds of people have called and sent flowers, but she's being very careful about not letting him get wound up and making sure he rests and recovers.
Signs of trouble with West's wellbeing first seemed to become apparent after the rapper walked off stage only half an hour into a concert in Sacramento on Nov. 20, after launching into a "stream-of-consciousness rant," about "corporate radio, Google, Facebook," as well as Jay Z and Beyoncé, according to The Washington Post. Only a few nights before, West was widely criticized for telling concert-goers in San Jose that he would have voted for President-elect Donald Trump if he'd actually voted. The day after ending his Sacramento show early, West canceled his scheduled Los Angeles show completely, and, according to Us Weekly, the remainder of his Saint Pablo Tour was canceled as well a few hours before West was admitted to hospital.
According to The Daily Mail, Kardashian has found it difficult to see her husband struggling, especially in light of her own harrowing ordeal in October. But sources say Kardashian has been "an unbelievably devoted spouse," and that she is hoping to bring West home so that he can be monitored by his own doctor.
At this point, a lot of the details of West's condition are still unknown, and it's not entirely clear what his recovery will look like over the coming weeks. But it sounds like it's definitely been a trying time for the couple as of late, and hopefully they will both be able to get the support they need to help them move through everything they've gone through — especially since they have two young children who need them to be healthy and well.