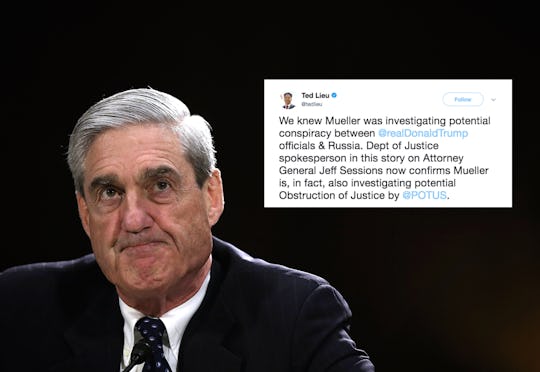 Alex Wong/Getty Images News/Getty Images
Updates On Robert Mueller's Investigation Show He May Be Zeroing In On Trump
Special counsel Robert Mueller's investigation into Russian interference in the 2016 election seems to be a perpetually hot topic on social media these days, but if you aren't following closely, it can be a lot to keep track of. In October, former Trump campaign chairman Paul Manafort and former Trump campaign official Rick Gates became the first two individuals indicted in the investigation (both have denied any wrongdoing), while former Trump campaign advisor George Papadopoulos and former Trump national security adviser Michael Flynn later pleaded guilty to lying to the FBI, according to The Washington Post (Romper's request for comment was not immediately returned). But a flurry of recent updates on Robert Mueller's investigation show that the four Trump aides were likely just the very beginning, and that the president himself may soon find himself facing questioning.
It's not particularly surprising to hear that Mueller's investigation seems to be picking up speed: following the original set of indictments, many speculated that he was positioning himself to gain the cooperation of the initial four men in order to later target some of the individuals in the inner circle of the Trump administration, including the president himself. But on Tuesday, the public learned more about what that might actually look like, and a number of key developments were revealed:
Attorney General Jeff Sessions Was Questioned Last Week
On Tuesday, the Justice Department confirmed that Mueller's team questioned Attorney General Jeff Sessions "for several hours last week" in connection to the investigation, according to The New York Times, making him the first member of President Trump's cabinet to actually be interviewed. But as much as Sessions' questioning signifies that Mueller is moving up the chain to focus on high-level officials, it also suggests that his investigation is set to move beyond just the issue of election interference and into the president's actions while in office. As Business Insider noted, Sessions' answers are valuable to Mueller because of his originally-undisclosed contact with a Russian ambassador during the campaign, but also because he was present when Papadopoulos pitched a meeting between Trump and Russian President Vladimir Putin in March 2016, and because of his connection to the firing of former FBI director James Comey's firing in May 2017 (Sessions' rep did not immediately return Romper's request for comment).
Though Sessions was once one of Trump's strongest supporters, the president is said to have been angry with Sessions' previous decision to recuse himself from any investigation into Russian interference, according to CNBC. But so far, the president seems to be playing it cool: when asked Tuesday about Sessions' recent interview with Mueller, Trump told reporters he was "not at all concerned" about it.
Former FBI Director James Comey Also Spoke With Special Counsel Investigators Last Year
While it was definitely a big deal to learn that Mueller's team recently questioned Sessions, it wasn't the only important development revealed on Tuesday. The New York Times also noted that, last year, former FBI director James Comey was also questioned as part of the investigation, reportedly "about memos he wrote detailing interactions with the president that had unnerved him."
In a June hearing with the Senate Intelligence Committee after he was fired from his position, Comey said that he believed he was fired "because of the Russia investigation," according to CNN — as FBI chief, Comey confirmed the bureau was investigating possible connections between the Trump campaign and Russia. He also testified that Trump had "asked for his loyalty during a January dinner at the White House," according to The Hill, and that the president had pressured him to end the investigation into Flynn, though Trump has denied all of Comey's claims (Romper's request for comment was not immediately returned).
CIA Director Mike Pompeo Was Also Questioned, & Steve Bannon Will Likely Be Next
On Wednesday, NBC News reported that CIA Director Mike Pompeo has also been interviewed by Mueller, while former White House chief strategist Steve Bannon is expected to be questioned by the end of the month. Bannon is said to have agreed to the Mueller interview after the FBI attempted to issue him a subpoena earlier this month that would have required him to testify in front of a grand jury, according to CNN, and is now expected to fully cooperate with prosecutors (a rep for Bannon did not immediately respond to Romper's request for comment).
In a statement to CNN, former Virginia Attorney General Ken Cuccinelli said that Pompeo and Bannon's involvement in the investigation was a clear sign that Mueller's game plan is escalating. He said,
We are at the top of the heap politically with Steve Bannon. We are at the top of the heap in terms of law enforcement in terms of the attorney general and the former head of the FBI. It strikes me they are getting near the end of gathering all their information, and then ... they are going to have to process that and make some decisions about how to proceed.
Mueller Wants To Question Trump — And That's A Big Deal
The most significant takeaway from the recent developments though seems to be that Mueller definitely has his eye on Trump, and on Tuesday, The Washington Post reported that Mueller is specifically looking to question the president "in the coming weeks" regarding his involvement with the firings of both Flynn and Comey. Though it's not clear exactly what Mueller expects to find, many are expecting the investigation to focus on possible obstruction of justice by the president, and if that's the case, there could be major consequences. Depending on the outcome of the interview, it's possible that Mueller could "seek permission to indict and prosecute Trump," according to Vox — and whether charges were brought against him, it could make a strong case for beginning impeachment proceedings (the special counsel office did not immediately respond to Romper's request for comment).
The president has long argued that Mueller's investigation lacked credibility though, and on Tuesday, White House Press Secretary Sarah Sanders said the White House is "fully cooperative" with Mueller so that the case could finally be put to rest, according to CNN. Many think the Trump interview could happen "in a matter of weeks," according to NBC News, though Trump's legal team is said to be looking into alternatives to a sit-down interview, including providing written responses (Trump's legal team did not respond to Romper's request for comment).
For his part though, the president don't seem to be too concerned. In June 2017, Trump told reporters he was "100 percent" willing to testify under oath about his conversations with Comey, according to NBC News, and said,
Just so you understand, there's been no collusion, there's been no crime, and in theory everybody tells me I'm not under investigation ... We could have been very closed [with the investigation], and it would have taken years. But you know, sort of like when you've done nothing wrong, let's be open and get it over with.
As complex as the Mueller investigation already is, it seems to be pretty clear that it's only going to get bigger and more complicated, possibly as quickly as in the coming weeks. Of course, the existence of the investigation in itself doesn't at all suggest that the outcome will be a bad one for Trump — and Trump certainly seems to be confident that he has nothing at all to hide. But given the potential implications for the Trump administration, the entire nation will likely want to pay close attention as Mueller's investigation narrows in.
Check out Romper's new video series, Romper's Doula Diaries:
Watch full episodes of Romper's Doula Diaries on Facebook Watch.