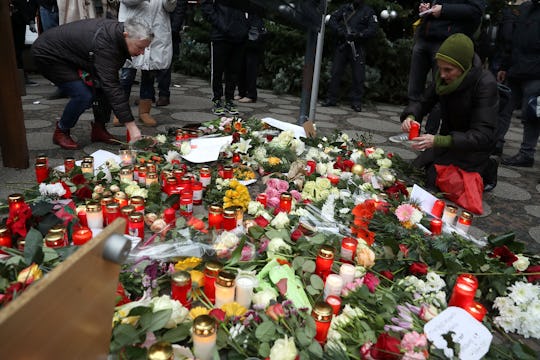 Sean Gallup/Getty Images News/Getty Images
Updates On The Berlin Attack Show There's Still A Lot To Uncover
On Monday night, a truck ran into a crowd at a Berlin Christmas market, killing at least 12 people and injuring nearly 50 more, some of whom are in critical condition. Police do have a suspect in custody, but the latest updates on the Berlin attack show there's so much more that's still unknown. According to The Independent, the truck was owned by a Polish delivery company, but the original driver wasn't responsible. Ariel Zurawski, the business owner, told reporters that his cousin, 37-year-old Lukasz Urban, was driving the truck and was hijacked before being shot and stabbed to death by the perpetrator.
Officials have detained a suspect, a 23-year-old Pakistani man who was reportedly seeking refuge in the country, in connection with the case. However, the suspect denies any involvement in the incident, and no physical evidence has been found that connects the man to the crime. At a press conference, Federal Criminal Police director Holger Münch said that it's unclear whether the man in custody is responsible, or if there is more than one perpetrator, meaning there could still be a dangerous person or persons at large. The attack is assumed to be an act of terrorism, and more may be forthcoming; Münch said that Germany remains on "high alert."
Chancellor Angela Merkel has said that she suspects that the truck attack was an act of terror, according to USA Today, much like the Bastille Day attack in Nice that left 86 dead in July. Merkel is now being criticized for her decision to welcome 890,000 refugees into the country. It's important to note that of those 890,000 refugees, very few have committed crimes. In fact, most crimes in the country are committed by German citizens. No individual or group has officially claimed responsibility yet (though a few right-wing outlets are claiming ISIS has), and no weapons have been located. Bloody clothing was found inside the truck, but so far, that's the only evidence that the public has been made aware of.
Still, there's no doubt that the truck, which CNN reported was carrying 25 tons of steel beams, was deliberately steered into the crowd. The truck struck at about 8 p.m. local time, plowing through stalls at the temporary market set up in Breitscheidplatz Square, by the Keiser Wilhelm Memorial Church. Such markets are common throughout Europe, and other Christmas markets in Germany will be closed on Tuesday in memory of the victims of Monday's attack. Those in other countries that are remaining open have increased security, as so much about the attack is still unknown. The markets were considered possible targets for terror attacks, according to Münch, but German Interior Minister Thomas De Maiziere has said that "To cancel them would be wrong." The markets may reopen as soon as Wednesday.