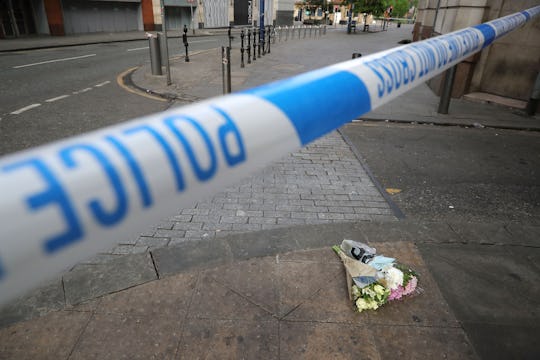 Christopher Furlong/Getty Images News/Getty Images
Updates On The Manchester Attack — Day 1
On Monday night, an explosion at an Ariana Grande concert in Manchester, England killed at least 22 people, according to CNN. Britain's Prime Minster, Theresa May, as well as law enforcement, confirmed the incident was being investigated as an act of terror. As of Tuesday morning, additional details about what happened have been reported and updates on the Manchester attack indicate children were among the victims.
In addition to the 22 confirmed dead in the attack, the BBC reported that more than 50 people were injured and many are still missing as of Tuesday morning. The bomb went off at approximately 10:30 p.m. as concert goers, mostly young people and their parents, were leaving the venue where Ariana Grande had just played a sold out show, according to the BBC. ISIS claimed responsibility for the attack Tuesday morning, according to The Independent. Investigators believe they have positively identified the attacker, who died when the bomb detonated, according to the BBC. The Greater Manchester Police confirmed via the department's official Twitter account that they had also arrested an individual believed to be involved.
Early Tuesday morning, The Guardian reported the identity of the first victim: 18-year-old Georgina Callander, a student at Runshaw College. The school released a statement confirming Callander's death. She was in her second year of studies, according to The Guardian's report. The death of a second victim, 8-year-old Saffie Rose Roussos, was reported by The Telegraph and confirmed by the child's school, Tarleton Community Primary School.
Other victims — many of them children and teens — are still missing, and parents have taken to social media in an attempt to locate them. Some reports of missing persons have, however, been false. The BBC is tracking and verifying the veracity of missing persons' tweets and social media posts in real time via its website.
As the investigation is ongoing, many details of the attack remain unknown. The most recent reports from law enforcement in Manchester indicate that the bomb used in the attack was an "improvised explosive device." The explosion resulted in the deadliest attack in Britain since the bombing on London public transport on July 7, 2005, which killed more than 50 people, according to the BBC.
Grande, who was in Manchester as part of her World Tour, posted on Twitter following news of the attack. Sources told TMZ that she's "indefinitely suspended" the remainder of her tour, which was slated to include a performance in London on Thursday and several other major European cities this summer. Grande's manager, Scooter Braun, posted a statement via Twitter shortly before Grande herself tweeted.