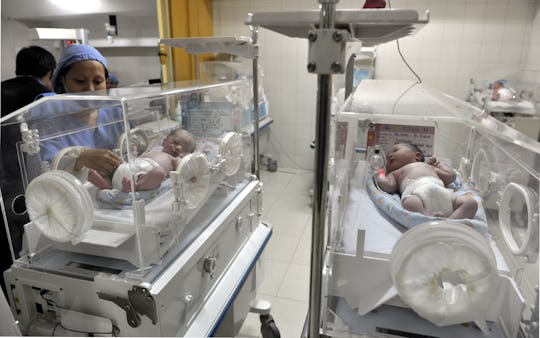 BAY ISMOYO/AFP/Getty Images
U.S. States With The Most C-sections Show That Where You Live Might Influence Your Choice
According to a 2014 report by the Centers for Disease Control & Prevention, 32.2 percent of birth deliveries in the United States are Cesarean. The rate has reportedly declined from previous years, the CDC reported, but the largest decrease was shown in women under 20 years old, with white non-Hispanic women showing the lowest cesarean rate. In terms of geographical location, interactive maps revealing U.S states with the most C-sections suggests there are correlations between where you live and your likelihood of having a C-section.
The CDC reported that cesarean delivery rates declined from 2013 to 2014 for 21 states and Washington D.C. The largest declines were noted in Arkansas, Kentucky, and the District of Columbia. Arizona and Montana saw increases in c-sections from 2013 to 2014, the CDC reported, with rates of increase at 2 and 6 percent respectively. But the CDC's calculation of 32.2 percent C-sections in the U.S are far above the international percentage recommended by the World Health Organization. WHO recommends that an ideal rate for C-sections are 10 to 15 percent. According to the organization, a C-section can prevent newborn mortality when its medically necessary, but when the rates of C-sections are above 10 percent, there is no evidence that shows mortality rates improving:
Since 1985, the international healthcare community has considered the ideal rate for caesarean sections to be between 10-15%. Since then, caesarean sections have become increasingly common in both developed and developing countries. When medically necessary, a caesarean section can effectively prevent maternal and newborn mortality. Two new HRP studies show that when caesarean section rates rise towards 10% across a population, the number of maternal and newborn deaths decreases. When the rate goes above 10%, there is no evidence that mortality rates improve.
In an article addressing C-section rates, Slate cited to a company called Amino, a site that provides free health care information. Amino created an interactive map that highlights the C-section rates among the States. According to its data, the states with the most C-section rates were Florida (42.8 percent), New Jersey (42.3 percent), Connecticut (41.1 percent), Kentucky (41 percent), and Maryland (40.9 percent). Alternatively, Wisconsin had the lowest rate of C-sections with 28 percent, and Utah, Minnesota, South Dakota, and Hawaii were among the states with the lowest rates. The company cited race, culture, and socioeconomic factors for explanations on why certain states have more c-sections:
There are many reasons why states might have drastically different C-section rates. A woman's ethnicity, race, culture, and socioeconomic status all might affect her chance of having a C-section. There are also staff practices at hospitals that can affect childbirth outcomes.
A lot of factors can contribute to high C-section rates. A 2014 report by the American Congress of Obstetricians and Gynecologists (ACOG) suggested that in some cases, for low-risk pregnancies, c-sections are overused, and can increase risks of maternal morbidity and mortality. The CDC provides information on trends in low-risk cesarean deliveries in the United States here.
Of course, every mother knows (or should know) to make their own decision with their doctor on how to proceed, since no one method is necessarily better than the other. But it doesn't hurt to see all the statistics before making a choice.