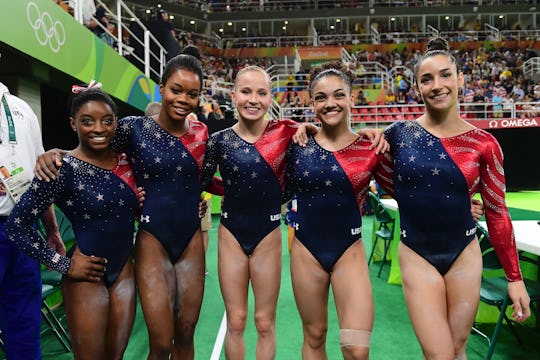 EMMANUEL DUNAND/AFP/Getty Images
U.S. Wins Rio Women's Olympic Gymnastics Gold In A Thrilling Moment, Just As Expected
It's never a good look to to be super arrogant, but confidence is a good thing. And let's just be honest, it's sort of no surprise that the U.S. won the Rio Women's Olympic Gymnastics team gold on Tuesday. They did have a lot of competition during the team final, but the 2016 Fiercer Five (as I like to call them) were seriously on point. The U.S. team kicked the whole thing off, which made waiting for the final point count a little nerve-wracking to watch, since silver medalists Russia and bronze medalists China were also killing it throughout the afternoon.
Laurie Fernandez started off on the vault and had a perfect double twist, with a shaky landing that didn't seem to bother the judges too much. Afterwards, Aly Raisman got a high score with her jump, and Simone Biles finished with a "near perfect vault," according to NBC live commentators Jim Watson, Jonathan Horton and Courtney Kupets Carter. Things only went up from there, with each team member laying it all on the table with thrilling floor routines, high flying bar routines, and the ability to bring the crowd to its feet.
Overall, the girls finished with a final score of 184.897. But even though they outshone everyone else, every time they stepped to up do their thing, there were long breaks between between each time they had to perform. It wasn't exactly a nail biter — for the most part, the rest of the teams were simply "competing for silver," according to the commentators. Regardless, no one ever knows exactly how things are going to work out in the end, and finally having that win in the bag was undoubtedly a relief.
That they actually like each other and support each other makes me all warm and fuzzy and girl power inside.
Douglas, who's had a tough week, didn't let it show. During qualifying rounds for the all-around team finals on Thursday, Douglas placed just behind Raisman and Biles. Since there are only two people per country allowed for the all around finals, Douglas and Kocien and Hernandez are left out. For the other women, that's disappointing, but there was a lot of pressure from commenters and social media on Douglas. There was some question about couch Márta Károlyi picking Douglas for team before even heading off to Rio.
With her performance today, NBC put it best: "Gabrielle Douglas has nothing to prove."
The other team members were equally as awe-inspiring: Biles with her powerhouse all-around showing, Laurie Hernandez's incredibly entertaining floor routine, Raisman's solid beam routine and tumbling passes, and Kocian's soaring performance on uneven bars all added up to a grand, emotional finish atop the podium.
The U.S. women's gymnastics is gold all around — they're talented, skilled, and incredibly positive women. The team finals were theirs from the start.