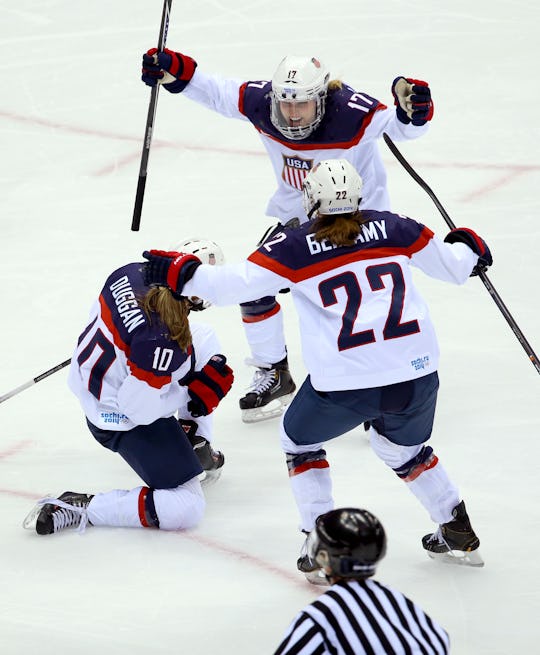 Doug Pensinger/Getty Images Sport/Getty Images
U.S. Women's Hockey Team Protests For Fair Wages
Women are paid less for all kinds of labor, but in sports, the pay gap is somehow all the more evident. Most national women's teams, like the U.S. Women's Soccer Team, win just as many (if not more) trophies and medals and cups as their male counterparts. Yet they're paid significantly less across the board. Which is exactly why the U.S. Women's Hockey team is protesting for fair wages by boycotting the International Ice Hockey Federation World Championship that begins at the end of the month, in Plymouth, Michigan (also the headquarter city of USA Hockey's development program, the league with which the women are negotiating).
The team's lawyer, John Langel — who also represented the U.S. Women's Soccer team in 2000 and is working pro bono for the athletes — issued a statement Wednesday saying that negotiations with USA Hockey have stalled. The women want four year contracts and to be paid throughout those four years.
Right now, they are paid $1,000 a month for the six-month Olympic residency and nothing the rest of the year. Langel said in a statement, "They're looking for support for every year so that they don't have to have second and third jobs and don't have to have family supporting them."
The players want a living wage, but they're going to have to fight to get it. Romper's request for comment from USA Hockey was not immediately returned, though it did issue a general statement about the Women's National Team's boycott. In the statement, officials said they were "disappointed" that the team is boycotting unless their financial needs are met, but that it will also continue to "field a competitive team for the upcoming 2017 IHFWC."
Jim Smith, president of USA Hockey said, "In our role as the national governing body, USA Hockey trains and selects teams for international competition." He added, "USA Hockey's role is not to employ athletes and we will not do so. USA Hockey will continue to provide world-leading support for our athletes."
In contrast, Women's National forward Jocelyne Lamoureux-Davidson told ABC News:
We all want to go play. But it's been 14 months [of negotiations] and we haven't seen progress, so if there's progress within the next week and a half, we'll see. But there needs to be significant steps taken and hopefully USA Hockey finds this significant enough to want to start making progress with us.
The women are understandably fed up. Most of the players also play for the National Women's Hockey League, which cut salaries last year out of nowhere. Before the cuts, salaries ranged from $10,000 to $26,000 a year. The only other North American league, Canada, doesn't pay its women's team at all.
Earlier this month, Ashley Johnston, who plays for the NWHL team, the New York Riveters (as in Rosie the Riveter), but is not one of the championship players striking, told NPR that she and her teammates get $260 a game and nothing more. She works at a robotics company part time to make ends meet and said that it's a common occurrence on her team.
"Most of the girls have some sort of work, whether it be part time or full time. And then you kind of have the other half where they're just solely playing hockey," she said. Johnston took the low pay in stride, citing the newness of the league (it was formed just two years ago) and the novelty of being able to play at all as a reason to look for a silver lining. She said:
It's a tough pill to swallow. But really, prior to the NWHL, there wasn't even a league for you to compete in. So that was almost harder because you'd see your [male]college friends graduating, going and signing pro contracts, and you're like, oh, there's literally nothing else for me. Like, this is the end of the road.
While that's a diplomatic way to look at it, the same is not true for the U.S. Women's Hockey team, which has been competing (and winning) for years. The last time the championship was held in the United States was in 2001 and the team won the silver medal. Since then, they have won six of the eight past championships. It's a very bold, awesome move on the part of the women's to boycott on home turf.
Women shouldn't be happy just to get to play. They deserve payment, in any league, in any sport, equivalent to their male counterparts — especially if they're bringing home just as many medals and trophies for their leagues.