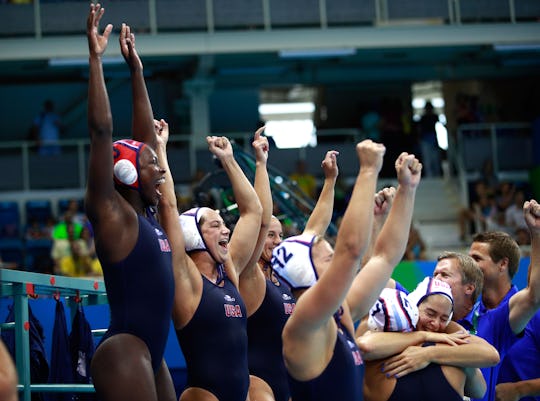 Adam Pretty/Getty Images Sport/Getty Images
U.S. Women's Water Polo Wins Gold & It's An Important Victory
American women were the rockstars of the 2016 Summer Olympic Games in Rio. The U.S. women's teams in gymnastics, basketball, and swimming were completely dominant throughout the competition. From Simone Biles and Katie Ledecky to the women's basketball team taking home it's sixth consecutive gold medal in a historic streak, these athletes made it clear they weren't messing around. Another U.S. women's team quietly joined the ranks of Olympic elite on Friday: the women's water polo team beat Italy 12-5 for its second straight gold medal. Many predict this is the beginning of a new athletic dynasty in American sports, filled with fierce competitors ready to carry the torch of Olympic success. The U.S. women's water polo team's gold medal is an important victory as it will help them cement their juggernaut status going forward.
With their exciting victory on Friday, the U.S. women's water polo team became the first women's water polo team to win back-to-back gold medals at the Olympics. As if that feat wasn't impressive enough, these badass women continued their streak of being the only team to win medals in every single Olympics that has offered women's water polo competitions. Team USA has two gold, two silver, and one bronze medal in the five Olympic games since 2000. You know, no big deal or anything.
Their list of accomplishments doesn't even stop there, either. The U.S. women's water polo team rolled in to the Olympics hot off its closed schedule with 22 straight wins. They played six games in Rio to get the coveted gold medal and comprehensively dismantled their competition each step of the way. They had a combined scored of 73-32. Italian head coach Fabio Conti said the American victors are "a team of another universe." If being a team of another universe means you hold each of the major crowns in women's water polo, including the Olympics, World Cup, and World League Super Final, then the U.S. women's water polo squad certainly fits the bill.
Team USA seemed to move through these Olympic games with a sense of relative ease. It held the lead in 23 out of 24 quarters played and only ever trailed for a slim margin of 44 seconds. The team won each of its games by at least six goals. Team USA is certainly the best water polo team in the world right now, and some argue it's the best team the sport may have ever seen.
The U.S. squad's performance in Rio is an important step for the team in securing its Greatest Of All Time (GOAT) status. Members of the team are optimistic about the future, including the next Olympic Games in Tokyo, even though some veteran members of their squad won't be returning.
After the final buzzer in the gold medal game this weekend, head coach Adam Krikorian and the rest of his staff jumped into the pool to celebrate with their players, clothes and shoes still on. It was a euphoric scene as another U.S. women's national team celebrated a monumental victory.
The future is bright for U.S. women's water polo. Krikorian said this group of strong, ferocious women "make a strong case" for being the GOATs of water polo. They, along with the other dominant, female American athletes, also make a strong case that girls most definitely run the world.