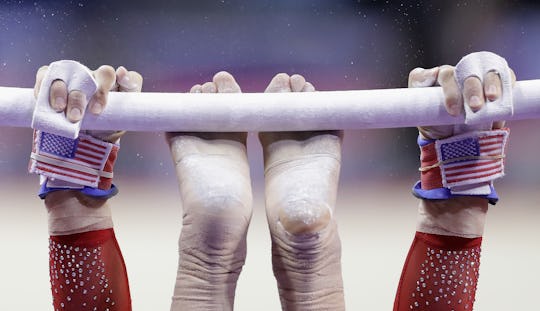 Ronald Martinez/Getty Images Sport/Getty Images
USA Gymnastics Reportedly Failed To Disclose At Least 4 Instances Of Sexual Abuse
According to an investigation and report released this week by The Indianapolis Star, USA Gymnastics may have reportedly failed to disclose at least four instances of sexual abuse by coaches over the years. The in-depth report claimed that the organization was notified about multiple coaches' alleged inappropriate acts but allegedly made no action to reprehend said coaches. According to the report, at least 14 gymnasts may reportedly have been abused by the four named coaches, who were later all sentenced to imprisonment.
The Star claimed that USA Gymnastics kept sexual abuse claims against the coaches in personal files, but allegedly failed to alert authorities about the wrongdoings in a timely manner. In 2011, USA Gymnastics was allegedly warned of coach Marvin Sharp's "inappropriate touching of minors," but the organization reportedly didn't report their information about Sharp until four years later when he was accused of "touching a [12-year-old] gymnast's vagina, trimming her pubic hair and taking sexually explicit pictures of her." He was charged for the abuse and put in jail, where he later killed himself.
Coach Mark Schiefelbein had a "history of complaints" against him which were subpoenaed from USA Gymnastics when other allegations were made against him. Schiefelbein molested a 10 year old girl in 2002 and was convicted with "seven counts of aggravated sexual battery and one count of aggravated sexual exploitation of a minor." He is currently serving 36 years.
In 1990 and 1991, two young gymnasts claimed that coach James Bell had molested them, but, allegedly, "Bell wasn't charged and continued coaching until his former employer reported him to police" in 2003. USA Gymnastics reportedly had a "sexual misconduct complaint file" by at least 1998, the exact contents of which, though, are "unclear." He's now serving eight years for three counts of child molestation.
USA Gymnastics was also allegedly warned that coach William McCabe "should be locked in a cage before someone is raped," along with at least four other complaints, in 1998. The organization allegedly did not report him to any authority and McCabe continued coaching until 2006, when McCabe was found to be "molesting gymnasts, secretly videotaping girls changing clothes and posting their naked pictures on the internet." McCabe pleaded guilty to "federal charges of sexual exploitation of children and making false statements" and is serving 30 years.
The Star's report asserts that USA Gymnastics' "reliance on firsthand accusations — from either a gymnast or a parent" allegedly prevented claims of abuse from being reported, according to The New York Times. In a statement regarding The Star's report, Steve Penny, president of USA Gymnastics, fired back:
USA Gymnastics has been assured by law enforcement that it went above and beyond its legal obligations to report on this matter. USA Gymnastics has, in the strongest terms, encouraged anyone who believes abuse has occurred to contact law enforcement and frequently works with law enforcement on these matters.
According to The Star, Penny defends USA Gymnastics' resistance to investigate abuse claims due to its "concern about potential danger to a coach's reputation if an allegation proved to be false." The Star has filed a motion to make USA Gymnastics' private files public—files that allegedly possess complaint dossiers on 50 coaches.