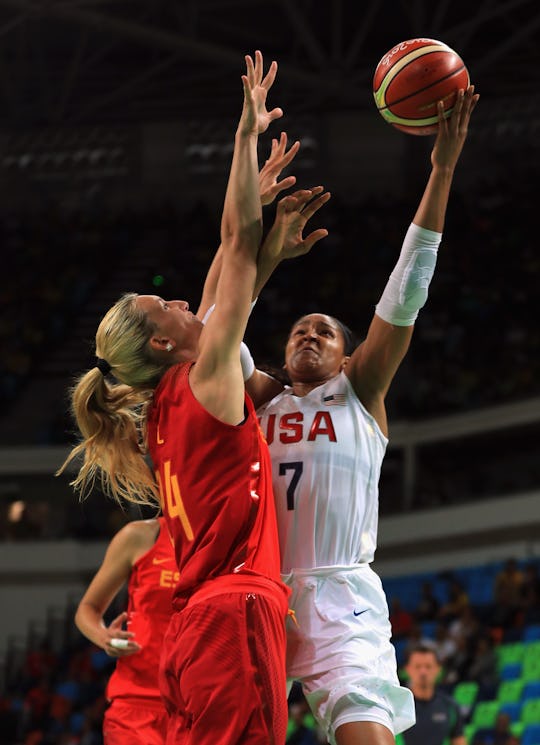 Mike Ehrmann/Getty Images Sport/Getty Images
USA Women's Basketball To Take Home Gold At 2016 Rio Olympics
Cruising and crushing their way to their sixth consecutive Olympic victory, the United States women's basketball team will take home another gold medal at the 2016 Olympics in Rio de Janeiro. After a slightly sloppy start, Team USA found their bearings and pummeled Spain — scoring 101-72 on Saturday afternoon in the Brazilian arena — marking 49 Olympic wins in a row for the impressive squad.
The American women's historic victory showed that they've dominated fearlessly on the court throughout the Summer Games. Now, they are just one gold away from tying with the United States men's basketball team's seven consecutive golds, between 1936 and 1968.
"When you think of USA, you think of basketball," WNBA superstar and three time Olympic gold medalist Diana Taurasi said in an interview after the game, according to NBC. "We bleed basketball."
According to NBC, Taurasi and Lindsay Whalen, also a WNBA champion and Olympic alum, led the team to victory, each scoring up to 17 points at Saturday's game.
But, Team USA's golden victory isn't the only historic medal to celebrate — Spain's silver medal is the country's first medal ever in women's basketball. While both teams competed tirelessly, the dominant American women's strong determination and unmatchable talent proved to be too much to defeat once again.
As the team brought home their sixth consecutive Olympic gold medal, according to NBC, the ladies set a few more records on their way, including becoming the first team to score 100 points in three straight games and scoring the most points in United States women's Olympic basketball history, with 121 points.
"With the 29 point win today, I think it's fair to say that this has been maybe the most impressive stretch of women's basketball that, at least, I can recall," Hunter Felt of The Guardian, who has been providing live coverage throughout the Rio Olympics, wrote on Saturday after the final whistle.
Team USA has built a powerhouse team since the beginning and it's likely that they'll be bringing the majority of its strength to the next Summer Olympics, which will be held in Tokyo in 2020.
The legacy the American women have left in women's basketball path will be hard to match. And it's a good guess that Team USA — dubbed the "The Greatest Team You've Never Heard Of" by the media — will continue to smash records and nail down more historic victories at any future Olympic games. And after Saturday's victory, it'll be almost impossible to miss.