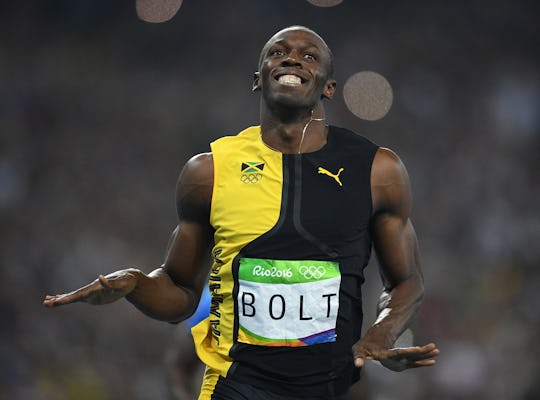 JOHANNES EISELE/AFP/Getty Images
Usain Bolt Wins Men's 100M, Defending His Title Of 'Fastest Man In The World'
Usain Bolt can't be beat. In a stunning finish on Sunday night in Rio, Jamaican sprinter Bolt won the Men's 100m, besting the competition and sealing his legacy. Bolt is the first man to win three consecutive gold medals in the event.
Bolt finished the final with a time of 9.81 seconds, beating U.S. rival Justin Gatlin, who finished second with a time of 9.89. Earlier in the evening, Bolt had finished the second semifinal with a time even besting that: 9.86. In short, though Gatlin was strong, Bolt was simply stronger.
It wasn't always this way, of course: Going into the Rio Games, experts agreed that Bolt was on shaky ground. Just one month earlier, on July 1, the sprinter had withdrawn from the men's 100m at the Jamaican Olympic Qualifiers with a hamstring injury.
"It would have been crazy for Usain to run that race," Bolt's manager, Ricky Simms, told Sports Illustrated's Tim Layden. Bolt, too, agreed. "The one thing I've never had is a perfect season," he said. "No injuries, everything smooth, and see how fast I could run."
But according to Layden, the sprinter's injury couldn't keep him from the games. Bolt was only invited to join the team in Rio a little over a month ago, on July 8, but when he finally showed, it was all over for the competition.
"Who can beat Usain Bolt?" NBC News wrote in a bolded headline on its Olympic sub-site, pointing out that Gatlin's chance to beat the sprinter in 2015 had gone unclinched, and that the rest of the field's chance at taking down the champ were equally as iffy.
Joe Battaglia, managing editor of MileSplit and FloSports had his doubts going into the night. "One week ago, I would have been inclined to say that not only would one person beat Usain Bolt in an Olympic final but that he wouldn't three-peat in either the 100m or 200m," he told NBC Olympics on July 26. "But after watching his victory in the 200m at the Diamond League meet in London on Friday, I have done a 180 in my thinking ... I do not believe Bolt will be beaten in Rio." Chris Chavez, of Sports Illustrated, agreed. "Bolt will be ready in Rio," he said simply, in the same interview.
"Ready" was an understatement. Coasting past the competition on Sunday night, Bolt seemed unstoppable. In what seemed like three strides, he passed the finish line, pulling ahead of Gatlin and the rest of the field to roaring applause, approaching the line of reporters to revel in the moment.
Then, true to character, he cut his interview short and ran over to congratulate South African racer Wayde van Niekerk on the sprinter's gold medal-winning, world record-breaking 400m finish of 43.03. "That's how it's done," one observer tweeted, remarking on his sportsmanship.
One could argue, of course, that it was a fitting summary of Bolt's career.