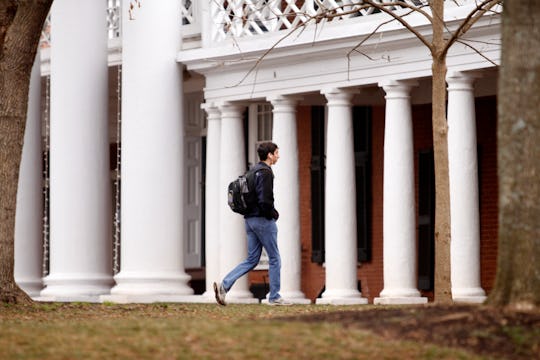 Jay Paul/Getty Images
UVA Fraternity Sues 'Rolling Stone' Mag & Writer For $25 Million Over False Rape Allegations
Today, the saga around Rolling Stone's 2014 article about an alleged rape on the University of Virginia's campus continues. According to Reuters, UVA's Phi Kappa Psi has sued Rolling Stone and the writer of the since-retracted article, Sabrina Erdely, for a total of $25 million in damages. The fraternity claims that the magazine "published the article with reckless disregard for the truth," according to the defamation lawsuit filed in Charlottesville, Virginia, Circuit Court today. Though Romper reached out to UVA, as well as Rolling Stone and Erdely, Monday, requests for comment were not immediately returned. 
The 9,000 word story at the center of it all — which ran in Rolling Stone's November 2014 issue — described UVA as a university steeped in a culture of rape and cover ups. It also included detailed claims of a specific rape, allegedly at the Phi Kappa Psi chapter. The article, titled "A Rape on Campus: A Brutal Assault and Struggle for Justice at UVA," sparked on-campus protests and all-out rage from Rolling Stone readers as soon as it hit Twitter and newsstands. 
But then came another shocking turn of events: It was soon discovered that the story itself hadn't been fact checked very well, and the story's subject, a girl named Jackie, appeared to have fabricated the story significantly. Rolling Stone commissioned a review of the story and the magazine's fact checking practices by the Columbia School of Journalism. The review found that virtually everything that could go wrong in the process of reporting the UVA story, did go wrong.
In the end, the Columbia Journalism Review concluded that although Rolling Stone wasn't going to change their editorial process, there were some things that could be tweaked to prevent this from happening again: 
Yet better and clearer policies about reporting practices, pseudonyms and attribution might well have prevented the magazine's errors. The checking department should have been more assertive about questioning editorial decisions that the story's checker justifiably doubted. Dana said he was not told of reporting holes like the failure to contact the three friends or the decision to use misleading attributions to obscure that fact.
But Phi Kappa Psi claims the damage is done. The fraternity's president, Stephen Scipione, told CJR in April 2015 that the story had lasting effects on Phi Kappa Psi's reputation and members: 
It's completely tarnished our reputation. It's completely destroyed a semester of our lives, specifically mine. It's put us in the worst position possible in our community here, in front of our peers and in the classroom.
This is the third lawsuit against Rolling Stone in the wake of the story. Associate dean Nicole Eramo sued in May for $7.5 million, saying that she was made out to be a villain. Ex- Phi Kappa Psi members George Elias, Stephen Hadford, and Ross Fowler sued in July. This most recent lawsuit maintains that the fraternity brothers suffered harassment and death threats because of the story. The suit also alleges that threatening statements were posted to Facebook, like this one: 
"Go ahead do it, kill yourselves, do the world a favor a*sholes" was tweeted at a Phi Psi brothers and "Its[sic] just a matter of time before a father like me will go in and shoot the balls off those bastards and burn down their f*cking historic house.
It's a no doubt a frustrating situation all the way around. While the fraternity in question was falsely accused, one fact remains: Rape culture on college needs to be attacked head-on. While Rolling Stone deals with lawsuits and beefing up their editorial practice, there are lots of ways to combat real rape culture on college campuses and help women feel empowered enough to report crimes when they really happen. Because they really do. 
Image: Jay Paul/Getty Images