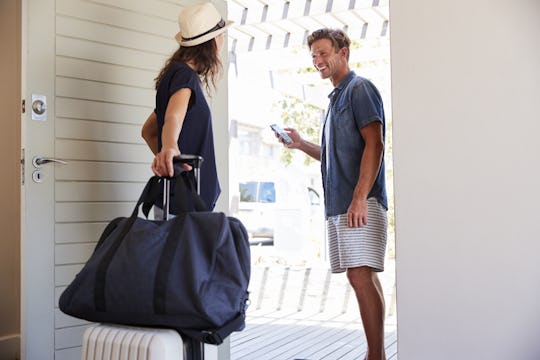 Monkey Business/Fotolia
Keep These Expert-Suggested Safety Tips In Mind Next Time You Book A Vacation Rental
What's the first thing you do when you arrive at your vacation rental? Pick out the best bedroom? Check out the hot tub? What about making safety checks, for fire extinguishers and emergency exits? When you rent a home through a site like VRBO or Airbnb, it's important to remember that you're not booking a room in a hotel, with its cleaning schedule and clockwork fire drills. In fact, you're renting from an individual who may or may not have safe, functional, up-to-code appliances, let alone batteries in the smoke detector, which is why you need vacation rental safety tips from experts, no matter where your travels take you.
On Friday, March 23, an Iowa family of four was found dead in their vacation rental home in Tulum, Mexico. According to Today, the Sharp family died of toxic gas inhalation, likely carbon monoxide, in a condo rented through VRBO. While third-party rental services like VRBO and Airbnb do want to protect you — Airbnb even offers free smoke detectors and carbon monoxide alarms — there's only so much these companies can do to enforce precautionary measures. (By contrast, hotels must follow the international fire code, which provides a baseline of legal requirements for every property, including carbon monoxide alarms in rooms with fireplaces, fuel-fired appliances, or unventilated attached garages, explains Jennifer Myers of the American Hotel and Lodging Association.) In the end, it's up to you to ensure your safety in rental homes. As John Gobbels, Chief Operating Officer of Medjet, tells Romper in an email interview, you should inspect your rental property for fire detectors and carbon monoxide alarms before you unpack. Take a look around for the fire extinguisher, too.
"Carbon monoxide, which some experts believe is what killed the Sharp family, is tasteless, odorless, and invisible," explains Gobbels. "Local safety requirements vary widely, and many properties will not have a carbon monoxide detector." To be on the safe side, he says, you can bring your own inexpensive, battery-operated carbon monoxide detector ($35, Amazon) on vacation with you. "Water heaters and furnaces are prime leak points, so place the detector near the room that contains those items," notes Gobbels.
Even before you go, there's a bit of planning you can do to ensure a safer stay. If you're traveling out of the country, check the U.S. State Department website for any alerts, and the CDC's travel site for health risks, Gobbels advises. Also, remember to register your foreign travel plans with the Smart Traveler Enrollment Program so the U.S. embassy can contact you in the event of a natural disaster. For extra security, Gobbels also recommends checking out the neighborhood where you'll be staying online, and arranging with a friend or family member to check in once, or preferably twice, daily. Finally, know exactly what to do, and where to go, in the event of a medical emergency. What's the fastest route to the hospital, and how will you get there?
As for choosing a vacation rental, keep in mind that owners' commitment to transparency may vary widely. William Seavey, an Airbnb Super Host who runs the bed and breakfast Her Castle along with his wife Eleanor, tells Romper in an interview that "it's up to the hosts to define and explain every aspect of the rental property, and up to guests to read the fine print." So if the information available online is thin, think twice.
What happened to the Sharp family on their Mexico vacation is a rare, unimaginable tragedy. It's also a reminder, as VRBOs and Airbnbs become a force to be reckoned with in the industry, that rentals don't always provide the same protections as a hotel. Experts recommend doing your due diligence before you book, and always keeping safety issues in mind.
Check out Romper's new video series, Bearing The Motherload, where disagreeing parents from different sides of an issue sit down with a mediator and talk about how to support (and not judge) each other's parenting perspectives. New episodes air Mondays on Facebook.