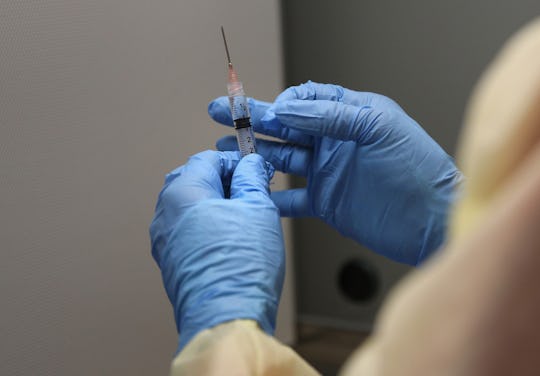 John Moore/Getty Images News/Getty Images
This Children's Vaccine Is A Major Game-Changer
Researchers are hailing it as a "game-changer," and for good reason. A vaccine that could prevent hundreds of thousands child deaths around the world by heading off a disease that causes severe diarrhea has been proven "safe and effective." Known as BRV-PV, the vaccine would protect children, from contracting the wickedly common rotavirus — and it just completed a successful trial in Niger. Other vaccines to do this do exist, but BRV-PV has a secret weapon that will improve its availability and potentially allow it to save 450,000 children under 5 every year: It doesn't need to be refrigerated.
And that's a big deal, considering that most of the children affected by the incredibly contagious rotavirus live in sub-Saharan Africa, where life-saving medical care is often difficult or impossible to access, according to a Doctors Without Borders press release. That organization, along with the Cincinnati Children's Hospital, the Serum Institute of India Pvt. Ltd., and the Ministry of Health were in Niger to conduct the trial, which included more than 4,000 children 2 years old and under. The results, published Thursday in The New England Journal of Medicine, mean that the vaccine is one step closer to approval from the World Health Organization and ensuing distribution.
"This is a game-changer," Dr. Micaela Serafini, Doctors Without Borders medical director, said in the press release. "We believe that the new vaccine can bring protection against rotavirus to the children who need it most."
The fact that the vaccine is heat-stable for up to two years, unlike its similarly effective counterparts, makes it much easier for health care providers to use in areas lacking "the electricity, the physical infrastructure, such as roads and anything that we would take for granted," Doctors Without Borders researcher Rebecca Grais told Forbes. And at just $2.50, its cheaper than both the other rotavirus vaccines, RotaTeq and Rotarix.
According to the Centers for Disease Control and Prevention, diarrhea kills 2,195 kids every single day and is the second-leading cause of death among children 5 years old and younger worldwide. In fact, it kills more than AIDS, malaria, and measles combined, and a rotavirus infection is the number one culprit landing kids with this type of severe diarrhea. It's also very easy to spread, often traveling from person to person via contaminated food, water, hands, and objects like toys.
So, the fact that the vaccine doesn't need to be refrigerated would be a godsend for parents living in the part of Africa where the virus is most prevalent, as Grais explained to Forbes:
When a mother has five children under her care and has to go to the field to get grain to feed the family, and one of her children gets sick, she has to walk up to 15 km to a health center. In the meantime, she has her other children to take care of, and she has a sick kid, so a vaccine which could be brought to health centers which are closer to her makes a huge difference in the lives of mothers and children.
The faster BRV-PV becomes available, the better, it seems.