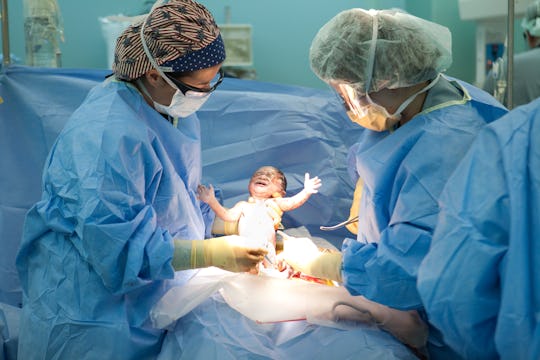 Brendan Hoffman/Getty Images News/Getty Images
8 Things You Need To Know About Vaginal Seeding
If you are pregnant and need (or want) to have a C-section to birth your baby, it's natural to have questions about how being born via C-section might impact your baby's health. Some C-section moms are opting for a process called "vaginal seeding" to expose their baby to the healthy bacteria they would have encountered during vaginal birth. But according to medical professionals, there are things you need to know about vaginal seeding before you decide to give it a try.
So, what is vaginal seeding, anyway? According to the American College of Obstetricians and Gynecologists (ACOG), vaginal seeding is a process that follows a C-section delivery, when a mom's vagina is swabbed with gauze and that gauze is then rubbed on their baby's face, skin, and/or mouth. The same site explains that the theory behind vaginal seeding is that if you expose babies to the same bacteria they would have encountered during vaginal birth, you might reduce their future risk of conditions like asthma and allergies that have been linked to C-section deliveries. The problem with this theory, according to ACOG, is that while it's been established that C-section delivery might increase a baby's risk of these conditions, it's unknown if exposure to vaginal bacteria is the key to reducing these particular risks. We also don't know exactly how the way a baby is born is connected with these conditions.
A small study published in the journal Nature did show some differences in the gut bacteria of babies who were "seeded," but it only included four babies who underwent the process and researchers don't know if it will have any impact on their health. Even the study authors themselves make no claims about any health benefits of the process. Also, a review of research published in An International Journal of Obstetrics and Gynaecology (BJOG) shows that vaginal seeding can actually increase your baby's risk of developing certain types of infections. Unfortunately, this hasn't stopped new moms from asking their doctors to perform vaginal seeding, which ACOG warns is not worth the risk.
So, if you are one of the many moms considering vaginal seeding, here's what you need to consider: