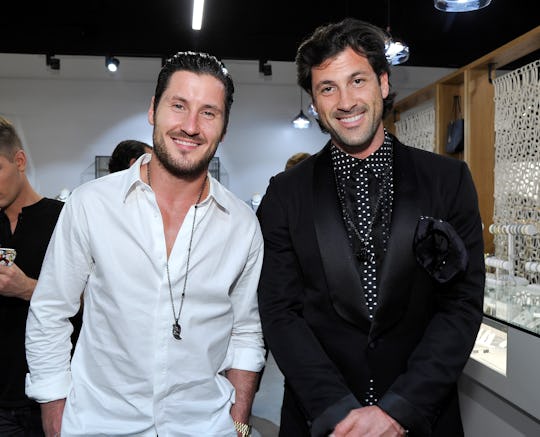 John Sciulli/Getty
Val & Maksim Chmerkovskiy's 'Fuller House' Appearance Is The 'Dancing With The Stars' Cameo You Definitely Need
Worlds really are colliding on Fuller House. And I'm not just talking about a collision between the modern era and '90s relics. The Netflix original series has hosted a number of guest appearance and surprise cameos. But the third episode of the series really packs an all-star punch. (Warning: spoiler alerts ahead) Not only does Macy Gray make a cameo, but Val and Maksim Chmerkovskiy's Fuller House appearance is the perfect marriage between popular ABC shows from the past and present.
The Ukranian-born brothers and Dancing With the Stars pros took on a role that was essentially built for them. In a nutshell, they play a pair of brothers who meet D.J., Stephanie, and Kimmy during a girls night out at dance club Euphoria. And after a couple rounds of tequilla shots, they each take a hold of a Tanner sister and bust out some ballroom-approved moves. (Seriously, who does lifts at a club?)
But wait, because their appearance gets even more meta. Towards the end of the night, the couples participate in Euphoria's legendary nightly dance off (again, because that's a thing that happens at night clubs.) Kimmy and D.J. pair up, forcing Val and Maksim's characters to dance with eachother. And don't worry ladies — the shirts are unbuttoned in true Chmerkovskiy fashion.
And, of course, we have to discuss the ultra meta Dancing With the Stars reference. While D.J. and Maksim bump and grind on the dance floor, he praises her moves:
Maksim: Where did you learn those moves?
D.J.: Oh, I watch Dancing With the Stars each week.
Maksim: That's impossible! It's seasonal and rotates with The Bachelorette.
Although that may be true for D.J., any true fan of Dancing With the Stars knows that Candace Cameron Bure competed on Season 18 of Dancing With the Stars in 2014 where she was paired with Mark Ballas. And she wasn't that bad.
Although it would have been sweet to see Cameron Bure reunite with Ballas, I'll take s shirtless appearance from the Chmerkovskiy brothers any day of the week.