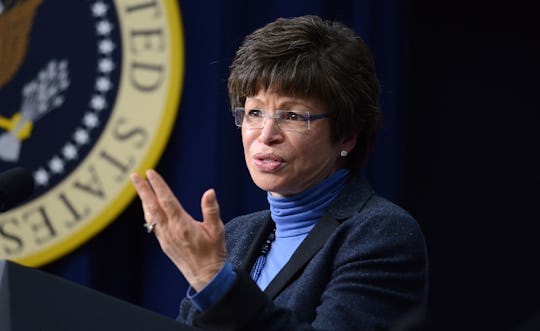 Valerie Jarrett's Lenny Essay About Guns and Domestic Violence Is A Sobering Call For Gun Reform — When Will It Change?
From Sandy Hook to Charleston's Emanuel AME, shooting rampages have been occurring all too often in the United States, and the calls for new gun laws have become all too temporary. To make matters worse, firearms are used in domestic disputes — with just as horrifying of results. But as Senior Advisor to President Barack Obama Valerie Jarrett's Lenny essay about gun control states, these in-home cases are regularly overlooked or excluded from the conversation about gun reform. 
"Every year, countless Americans are killed not by strangers who are criminals, but just because a gun is present in an already volatile situation," wrote Jarrett, who is also the Chair of the White House Council on Women and Girls. "Simple disagreements may escalate to shootings and death."
Sobering statistics confirm that: According to research from the American Journal of Public Health, women experience a 500 percent greater risk of homicide if a gun is present during a domestic violence situation. Another 2011 report from the Bureau of Justice found guns were the weapons of choice in more than two-thirds of spouse or ex-spouse murders.
But something can be to reduce the rates of gun violence of relationships — and it all starts with firearm reform. In her editorial, Jarrett cited a February report from the Center for American Progress that found states with universal background checks for those purchasing guns cut the number of intimate-partner homicides by 46 percent. The bad news is that only eight states require universal background checks at this time. As Jarrett said, "The gun lobby has been so successful at preventing open and informed discussions about gun violence that Congress has made it harder to conduct even basic public-health research on the impact of guns, let alone take further steps to protect victims and survivors of domestic violence."
We need to stand united in our call for gun reform, not just for the children at Sandy Hook or parishioners at Emanuel AME, but also for our neighbors and sisters. Fortunately, Jarrett isn't alone in her mission to help domestic violence victims by passing gun reform.
Johanna Orozco, Whose Personal Tragedy Fuels Her Activism
In Jarrett's essay, she mentioned Orozco, one of the White House's Champions of Change in 2011. While in high school, Orozco seemed to have a fairytale romance with Juan Ruiz Jr., but the relationship was abusive behind closed doors. When she tried to break it off in February 2007, Ruiz raped her at knifepoint — but was only locked away for four days before he was released on house arrest. Undeterred by his ankle monitor, Ruiz waited outside Orozco's house until she appeared and then shot her in the face with a sawed off shotgun. She miraculously survived and recovered. Since then, Orozco's been an outspoken advocate for changing legislation to protect threatened teens.
Sharon Totherow, Who Advocates For Change In The State With The Highest Domestic Violence Homicide Rate
After her marriage turned physically, verbally, and sexually abusive to the point she was held at gunpoint, Totherow managed to get out and now leads the Domestic Violence Assistance program in South Carolina, which she created to help provide other victims with the necessities to get out of their toxic relationships. After Governor Nikki Haley signed a bill into law in July that allows some abusers to keep guns, Totherow said that's unacceptable. "Gun right associations think we're against guns," she said. "We're not against guns. Guns are useful, but when they're in the hands of violent offenders it's just easier access."
Lawmakers Amy Klobuchar, Debbie Dingell, & Robert Dold Seek To Close Absurd Loophole
Minnesota Senator Klobuchar and Michigan Representative Dingell — both Democrats — teamed up with Republican Illinois Representative Robert Dold this year to introduce legislation that would keep guns out of the hands of convicted stalkers and abusers. "I understand what a gun in the wrong hands can do and the fear and the anxiety that you live with for a lifetime," Rep. Dingell, who grew up in a home marred by domestic violence, told Bloomberg in July. The Zero Tolerance for Domestic Abusers Act, the bill introduced to the House of Representatives in July, specifically aims to close the loophole that allows some convicted stalkers or abusers who weren't married to or living with their victims to own firearms. As Rep. Dold told the Chicago Tribune in August, "It is a domestic abuse issue, because no woman should have to live in fear for her life." The bill is on hold in a congressional committee.
It sure seems like a no-brainer that guns and anybody with a history of domestic violence don't mix — with Jarrett saying it's a "human rights" issue, not a second amendment issue. So let's speak up and make our legislators do something about it. You can start by writing your congressman to express support for the Zero Tolerance for Domestic Abusers Act.
Image: Getty