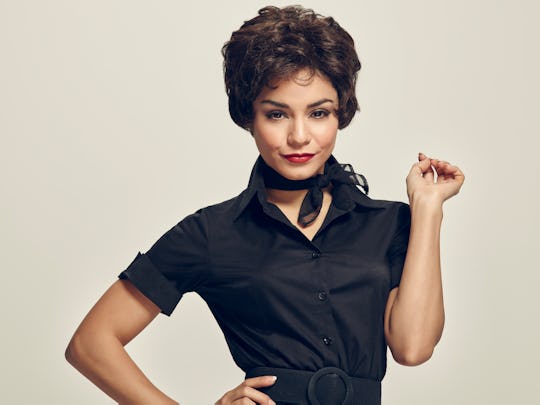 FOX
Vanessa Hudgens Is The Real Winner Of 'Grease: Live!', Proving That She Was The Perfect Choice For Rizzo
When it was first announced that Vanessa Hudgens would be playing bad-girl Rizzo in Grease: Live, it seemed like a bit of a confusing choice. After all, to most people, Rizzo is Stockard Channing, and it didn't necessarily seem like Hudgens would be able to nail the character as well as she did (although — to be fair — could anyone do Rizzo like Stockard Channing? Probably not). The entire cast of Grease: Live clearly brought their A-game to Sunday's show, but thanks to her awesome performance, Hudgens proved she's the perfect Rizzo.
Hudgens was hit with a huge blow right before her big debut as news broke that her father had just passed away from stage 4 cancer, according to People. But not only was she still totally dedicated to still performing, she happens to be totally nailing it. Hudgens' Rizzo is a perfectly attitude-filled bad girl, and also seems to be inspired by Channing in a big way — which is amazing news for fans of the film.
In fact, it's almost hard to believe that it was even possible to ever doubt Hudgens in this role, because, her IDGAF attitude, totally spot-on singing, and badass dance moves are kind of perfection. And judging by the reactions on Twitter, fans are loving Hudgens as Rizzo, too:
Given Hudgens' solid performance, it's hard to believe that she is mourning such a huge loss. But her ability to keep going — and to do so well, no less — is clearly a testament not only to Hudgens' bravery and professionalism, but to her incredible talent.
Even though Hudgens is dealing with an immense personal tragedy, her amazing performance is a big win for her career. And hopefully all of the love being sent her way will help make it a little less bittersweet — it is definitely well-deserved.