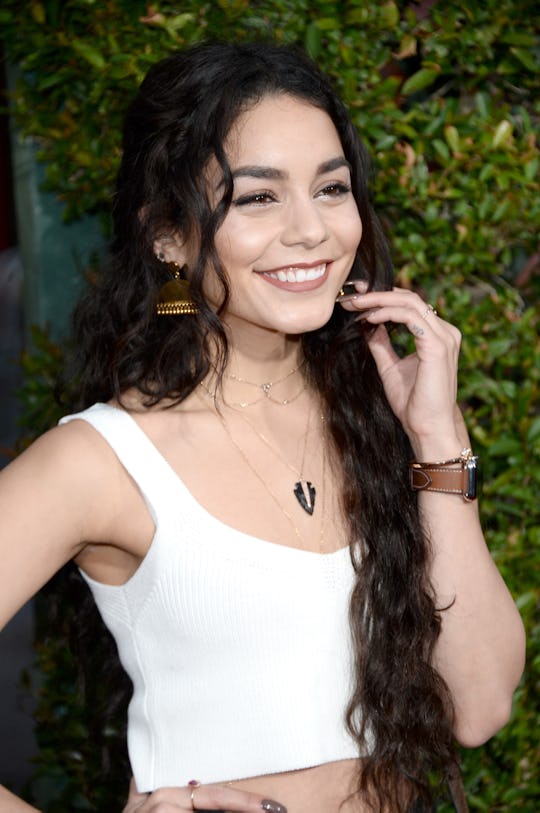 Matt Winkelmeyer/Getty Images Entertainment/Getty Images
Vanessa Hudgens Talks About Her Dad's Death, & Beautifully Credits Her Mother's Strength
At only 27, Vanessa Hudgens seems far too young to lose a parent, but she's handling it with strength and grace, thanks in part to the example her mother set for her. In an interview with People, Hudgens spoke about her father's death and says her mom's strength helped her cope: "She's so strong through the hardest of times. But she has this lightheartedness and this light that just beams out of her very being and it's so special. Life is about perspective. The way you choose to see your life is the way your life is going to become."
Hudgens father, Greg, died from stage 4 cancer on Jan. 30, just one day before she performed in Grease: Live! on Fox. The singer and actress announced his death on Twitter mere hours before the show, saying, "Tonight, I do the show in his honor." Hudgens ended up stealing the show, with fans and critics raving about her solo. Hamilton star Lin-Manuel Miranda called her a "superhero" and Bailee Madison reported "chills." The performance was impressive in its own right, but when taking into account the fact that Hudgens probably would have preferred to be at home with her family, it was absolutely astounding.
Hudgens announced her father's diagnosis last August at the 2015 Industry Dance Awards, an event that benefits The Circle of Hope, a cancer charity. "Last year, my boyfriend, Austin, lost his mom, Lori, to cancer, and my dad has just been recently diagnosed with stage four cancer," she said. "Let me tell you, I hate cancer. I hate cancer with every cell of my being." She dedicated her award to Lori and Greg, as well as the families of cancer patients, saying "it really takes a strong person and a strong family to be able to help those out who are going through this."
The Hudgens family held a memorial service for Greg, a former firefighter, nine days later, which his daughter documented on Instagram and Snapchat, captioning one post, "This is how you celebrate a life." When speaking to People about the support her mother provided, Hudgens said, "My mom looks out through such beautiful eyes. I've learned to follow her lead." It seems impossible that one could simply choose to look on the bright side, but it looks like it worked for them.
There are highs and there are lows. It sucks, but death happens. It never makes it easier but it happens to all of us. It's just something we have to get through until we all meet again in heaven.