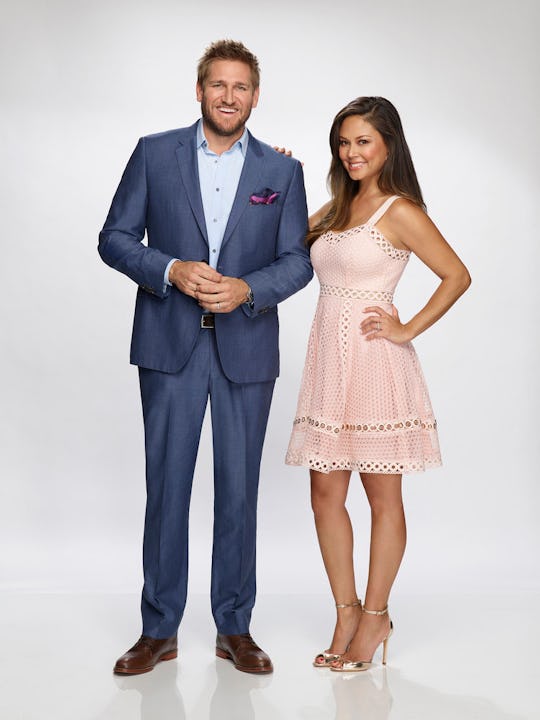 Chris Haston/NBC
Vanessa Lachey & Curtis Stone Share A Secret Recipe For Working With Kids On 'Top Chef Jr.'
The Emmy-winning reality series Top Chef is getting a kid-sized spinoff with Top Chef Jr., which premieres Oct. 13 on Universal Kids, wherein all the contestants are between the ages of 9 and 14. But it turns out the adult stars of the show, the host and judge, have more in common than just screen time. In a sit-down with Romper, Top Chef Jr. stars Vanessa Lachey and Curtis Stone explain how they incorporated their own parenting skills into the series. As parents of young children, it turns out that its harder to turn off being mom or dad than expected.
When Lachey and Stone were hired for the job, using their skills as parents was never discussed with the producers. But as Lachey explains, when you become a parent, it changes everything in your life. This also applies to work. The duo may not have originally expected to whip out any mom and dad tricks when on set, but they both agree that those instincts rose to the surface on their own. "They never said use your parenting skills in this," Lachey explains. "It was 'here's the job, here's what we're doing, here are the challenges.'"
But at the show's preview party at Stone's restaurant, Gwen, in L.A., the creators told Stone and Lachey that they could see the pair's parenting skills come out when interacting with the kids. "They said 'there's this beautiful layer that we never knew existed,'" Lachey recalls.
But in case you were wondering if the world of Top Chef is any less serious for children than it is for adults, Stone answers unequivocally: no. These chefs may not be able to drive yet, but they are very serious about what they do. According to Stone, the kids "see themselves as real chefs" and commends Vanessa for bringing "unbelievable compassion" to the kids each and every day. In fact, just before an elimination would occur, Stone shares that he would watch Lachey "connect with [the kids] on a real human level, as like a motherly sort of figure to them." Which, in turn, brought more of a paternal side out of him as well.
That being said, Stone knows that part of being a parent is knowing when to deliver some tough love, which Top Chef definitely does throughout the show. "I don't think there's anything wrong with saying no to kids sometimes," he states. "I don't think there's anything wrong with them understanding how the world turns." Since Stone believes, much like in life, "you don't win all the time."
Luckily, both stars agreed that what they found most rewarding about doing the show was seeing both how resilient the kids were and how genuinely thrilled they were just to be offered the opportunity to learn more about their craft. "I think what we managed to do was to say to them 'along this journey, whenever it ends for you, you're gonna learn, you're gonna work with incredible mentors, you're gonna become a better chef,'" Stone says. "Which is what they're so excited about."
That doesn't mean that elimination days were easy, though. Stone readily admits that you start to "see your own kids in these contestants along the way," which made sending them home all the more difficult. Lachey felt very similarly, but took comfort in the fact that "an hour later we'd hear them laughing in the game room."
I know that it will make things easier for me as I watch the show, knowing that even if a kid gets sent home, he or she was probably cracking jokes and swapping filet techniques with their buddies just a little while later. In any case, I am officially excited to see what these kids whip up!
Watch Romper's new video series, Romper's Doula Diaries:
Check out the entire Romper's Doula Diaries series and other videos on Facebook and the Bustle app across Apple TV, Roku, and Amazon Fire TV.