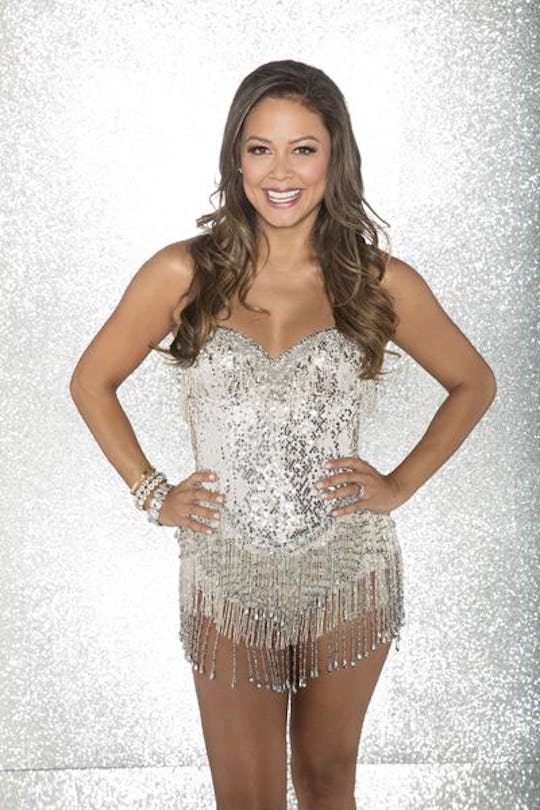 Craig Sjodin/ABC
Why Vanessa Lachey Wants 'Dancing With The Stars' To Be A Break From Motherhood
It's Dancing with the Stars Season 25 and a certain married couples, Nick and Vanessa Lachey, are definitely in it to win it. And for one of them, this is a chance to give herself a little "me-time" away from motherhood. Vanessa Lachey is putting herself first on Dancing with the Stars and it's a sentiment every mom can appreciate.
In the introductory video package before her first dance with partner Maksim Chmerkovskiy, Vanessa said that she's used to taking care of her kids and her husband, so deciding to take on DWTS is something she's doing just for herself. Motherhood is clearly a top priority in Vanessa's mind, and in the first week of Dancing with the Stars, it was the theme of not just her introductory package, but also her very first dance routine as well, which opened with the star pushing a baby pram before breaking away to do the rest of the number.
She said in the video clip: "I do everything in my life for my kids and for my husband but this is an opportunity for me to kind of do something for myself." As all hardworking moms know, it can sometimes be difficult to find time for yourself when you spend so much of your time looking after other people. Vanessa definitely deserves to make the most of her time on the show.
As it just so happens, Chmerkovskiy, is also a new parent. He and fellow Dancing with the Stars pro, Peta Murgatroyd, recently married and welcomed their first child together. But he also knows that the Dancing with the Stars studio is a place to focus on other things. He jokingly told his partner "none of that mommy stuff" while they're rehearsing, reminding her that in this space she is first and foremost a dancer. Obviously, motherhood is extremely important and fulfilling in its own very special way, but every mom needs a break to do her own thing once in a while. And might I just say, Vanessa is already doing it very well.
Vanessa and Chmerkovskiy danced a beautiful Cha Cha to Kesha's female-empowerment jam, "Woman," with lyrics like "Let's drive around town in my Cadillac/Girls in the front, boys in the back." Perhaps this was a cheeky way to shade her husband Nick Lachey — who is also competing in this season of Dancing with the Stars and performed right before her. If it was, it was well-warranted, as she definitely beat him in the scores department. His performance was not bad (considering it was only Week One), but Vanessa absolutely killed it. And she knew it too, giving a triumphant fist bump at the end of her routine. "Yes, mama did it!" she said to Erin Andrews before they got their scores. Yes she did, indeed!
As for what the Lachey kids think about the competition, Nick and Vanessa are hoping they don't pick one parent over the other and just root for them both. In an interview with E! News, Nick said, "I'm counting on them not to play favorites, to be unbiased and support mommy and daddy." But he did then add, "I think my daughter will be Team Daddy and my son will be Team Mommy." Considering the children in question are ages 5 and 2, they probably won't be able to make the most informed opinions about proper dancing technique, but I'm sure their parents value their opinion more than anybody else's (even Len Goodman).
And while Nick's brother Drew — also a member of 98 Degrees and previous winner of the Mirroball Trophy — was in the audience for Week One, you can probably count on seeing the three little Lachey children in the audience sometime soon.
Whether you're Team Nick or Team Vanessa, I think we can all agree to support Vanessa's "me time."
Watch Romper's new video series, Romper's Doula Diaries:
Check out the entire Romper's Doula Diaries series and other videos on Facebook and the Bustle app across Apple TV, Roku, and Amazon Fire TV.