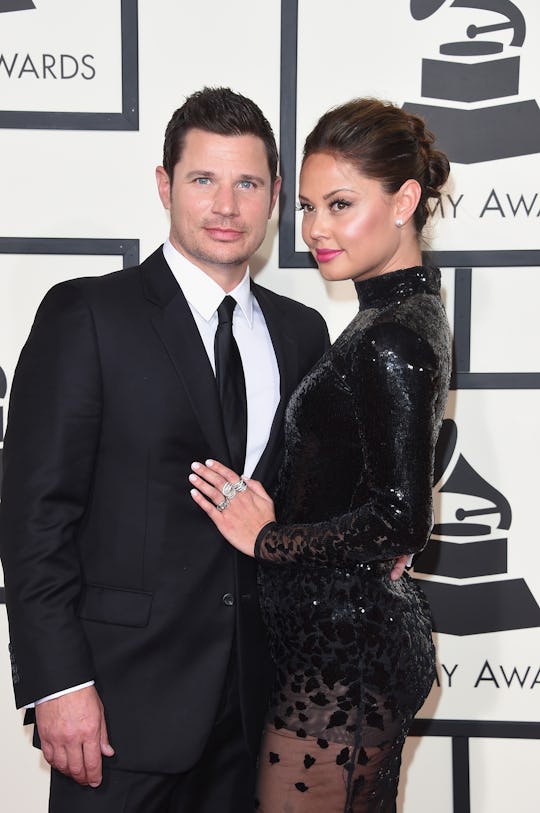 Jason Merritt/Getty Images Entertainment/Getty Images
Vanessa & Nick Lachey Welcome A Baby Boy
It's truly a "Christmas Miracle" for Nick and Vanessa Lachey, who welcomed a baby boy on Christmas Eve, the couple announced. In an adorable Instagram post, the proud parents introduced fans to their third child, Phoenix Robert, confirming that he had arrived a little early — but just in time to celebrate his very first Christmas with his parents and two older siblings. "It's a very Merry Christmas indeed!" Lachey wrote in the post. "We had our Christmas Miracle." The singer even clued the world in on the family's endearing hashtag: "#LacheyPartyOf5."
The couple are no strangers to keeping the public up-to-date about the status of their growing family. In September, Vanessa Lachey posted a photo of the family outside their new home, and debuted the family hashtag, to let her Instagram followers know she was expecting again. At the time, the parents believed that the "newest Lachey" would join the family during the spring of 2017. Clearly, little Phoenix had other plans — and thrilled his mom and dad a few months early. All seems well despite the early arrival, though, as the Instagram post announcing his birth features his tiny hand holding his 36-year-old mother's fingers.
"Phoenix Robert Lachey decided to show up early and was born on Christmas Eve. Mommy, Daddy, Camden & Brooklyn LOVE You very much! #LacheyPartyOf5," Nick Lachey, who rose to fame as a member of the 1990s boy band 98 Degrees, finished up the photo caption.
A little less than a week before Phoenix became his family's best Christmas present, Vanessa Lachey, who once hosted MTV's TRL, shared a black-and-white snap of her older kids, 3-year-old Camden and 22-month-old Brooklyn, relaxing alongside her giant belly. And by the time Christmas rolled around, Phoenix joined his older brother and sister in person.
And long before that, the family matriarch was ready to expand the clan. In an May 2015 interview, she explained to Us Weekly how she and Nick introduced Camden to Brooklyn when she was born, so there's no doubt that Phoenix is already feeling quite welcomed:
When I introduced Camden to Brooklyn, I had my doctor give me some tips. I had Camden give a gift to Brooklyn — we laid out three stuffed animals, we said, "Which one do you want to pick for Brooklyn?" He goes, "That one, that one!" and so he picked the little giraffe."
Nick and Vanessa Lachey were married in 2011 in an island wedding ceremony that aired as a reality TV special, according to The Daily Mail. Although their daily family life isn't quite so public, their social media feeds have showed a happy and adorable family — and their fans are surely getting excited to get to see Phoenix grow up that way, too.