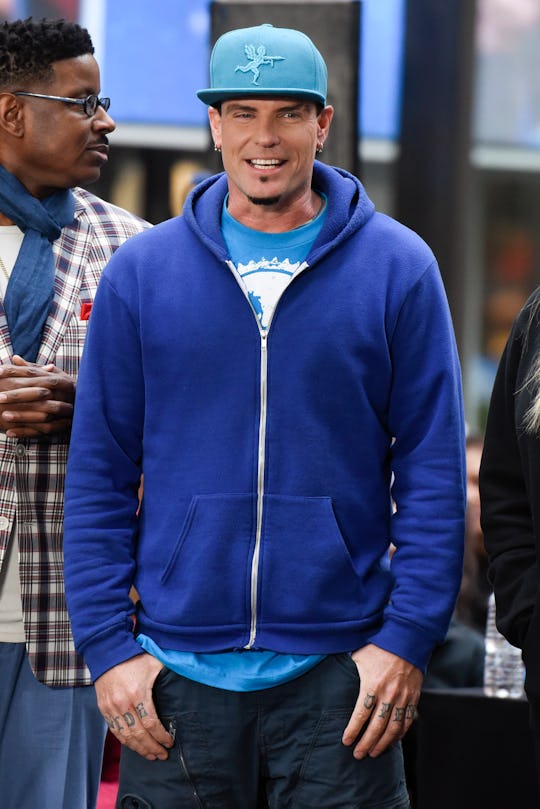 Matthew Eisman/Getty
Vanilla Ice's "Ice Ice Baby" Dance On 'Dancing With The Stars' Was Nostalgic AF
Vanilla Ice made his Dancing With the Stars debut on Monday night's season premiere to a cha-cha to his own song, the song that made him famous, "Ice, Ice, Baby," with partner Witney Carson. Vanilla Ice's "Ice, Ice, Baby" dance on Dancing With the Stars was nostalgic AF. I think Julianne Hough spoke for all of us when she said, "First of all that made me so happy, I cannot even tell you." Yeah, yeah, the judges thought there should have been more cha-cha in the cha-cha, but we all just fell in love with Vanilla Ice.
Initially, when Witney told Ice (Vanilla?) that their first dance would be to "Ice, Ice, Baby," he seemed a little nervous. It's a lot of pressure to make one's ballroom dancing debut at all, let alone a debut to the song that made you famous. But luckily, Vanilla Ice totally stepped up to the plate, and delivered one of the most entertaining, adorable, and just plain fun routines I think I've ever seen on the show. I'm not a huge Vanilla Ice fan, but his performance complete with a bedazzled baseball cap, some pop and locking, and lip-syncing that would make Britney Spears proud was one of the most entertaining performances in the show's history.
The dance began with Witney in a fabulous bomber jacket leaning on a vintage car, and the fun did not stop there. The judge's major critique of the routine was that the cha-cha got a little bit lost within the performance. But honestly, from a mere layman's perspective, who the hell needs cha-cha when there is that kind of nostalgic entertainment to be had. So maybe the dance wasn't the most technically proficient, but it put a smile even on my curmudgeonly face.
It also proved that whatever else he does right now, Vanilla Ice can certainly move. He doesn't seem to have had any formal training, but he definitely has a natural born performer's instinct for how to move his body, and how to make the most out of a performance. And for that, he may just be the one to watch.